Building Capacity in Educational Settings
Supporting Schools and Early Childhood Services
For over 15 years, the Australian Childhood Foundation has been supporting early childhood services, schools and education departments to create trauma sensitive and responsive environments for children, young people, parents, carers, families, education professionals and communities.
We have provided a range of training initiatives, resources and services to staff in educational settings at the local early childhood service or school level, cluster/regional levels or across whole educational systems and workforces.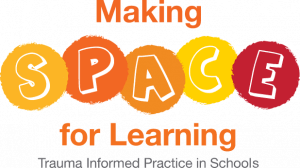 Trauma responsive practice supports an emphasis on making the education space – its routines, its relationships and its activities in and around its students – facilitative of and flexible to the needs of all children and young people, but in particular those who are affected by the consequences of trauma and toxic stress.
The acronym SPACE represents five key dimensions that if incorporated into strategies offer the most potential to establish effective opportunities for education environments to respond to the needs of traumatised children and young people. Our approach is captured in our highly acclaimed practice guide.
Our training can be tailored to your staff's current knowledge level, confidence and capacity. We can provide learning opportunities in a range of formats as well as reflective practice and skill building training for specific staff in your schools or across your whole school workforce.
Download the Practice Guide
Find out more about we can offer you & your school
SMART South Australia
The Australian Childhood Foundation has been working in partnership with the Department for Education in South Australia since 2005. The partnership is centred around the SMART program – Strategies for Managing Abuse Related Trauma.

The program has been delivered via a range of modes over the past 15 years including centralised training, collaborative practice forums, online learning, action research projects and whole school and other education settings onsite training. The SMART program is now firmly established within South Australia's response to children and young people who have experienced trauma. There has been a continuing impact of the SMART program in its influence on the department's policies and practice.

SMART stands as a strong and clear example of a collaborative approach to developing the capacity of a broad workforce to best support children and young people who have experienced the disintegrative and disruptive impacts of trauma.
Read about the projects that we have run with South Australian Schools
Are you looking for valuable resources?
The Foundation has produced a series of showcase booklets outlining some of the action research projects we have been involved with across Australia. You will find these booklets in the section below. The Foundation also produces a range of resources for professionals to use in their practice – many of which have relevance to schools, early childhood and other education sites. Feel free to download those publications and tools as well.
Check out our resources here