8 of Our Favourite Children's Storybooks

This article was authored by Lynne Kennedy, Senior Training Consultant, Parenting Education and Support Program, at the Australian Childhood Foundation.
The creation and telling of stories and creating meaning through story are integral to the BUGK Program. In our parenting groups we often open the session with a story, read it as one of the activities, or close with a story. We hope that in reading stories to parents we remind them (or give them the experience), of how nurturing it is to be read to or told stories. Our hope is that parents will pass this tradition on to their children thus providing another opportunity for nourishing connections and relationships in families.
Frequently, we are asked to recommend books for parents to use which reflect the focus we have on the importance of these connections, as well as reinforcing the practice of mindfulness for parents and children. As a result, a list of storybooks we love can be found in the BUGK Facilitator Manual but we keep adding to our resources as we discover more and more fantastic children's stories that we would like to pass on to the parents in our groups.
Recent research tell us that when parents relate to their children with mindfulness they activate a part of the brain (the medial pre-frontal cortex) which allows their defence systems to switch off, putting them in a more relaxed state and allowing them to reflect and act more rationally and be more present to their children's needs. As a result the risk of harm to children is reduced. Practicing mindfulness produces changes in parent's awareness that is reflected in improved relationships and better ways of communicating and connecting with their children.
With these ideas in mind, we thought we'd share a selection of some of our favourite storybooks that have a mindfulness theme – what are yours?
1. Mindful Monkey, Happy Panda. Alderfer, L. (2011) Wisdom Publications.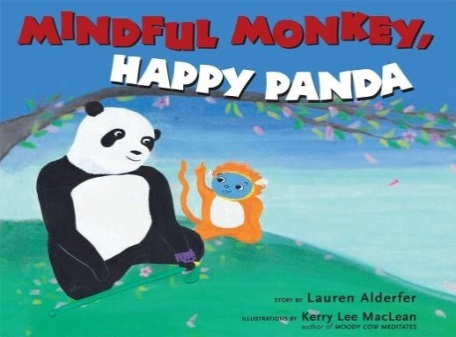 This is our number one favourite mindfulness story . We read it in most of our groups. This book explains the key concepts of mindfulness in an easy to understand , friendly way. With the gentle guidance of his friend , Happy Panda, Monkey learns about the joy of bringing his body and mind into the same place at the same time, focussing on what he is doing when he is doing it ,without distraction. "when I read I am just reading, when I eat I am just eating" This leads to a peaceful and happy mind just like his friend Happy Panda. A great story to introduce the idea of mindfulness
2. Moody Cow Meditates MacLean. K.L (2009) Wisdom Publications USA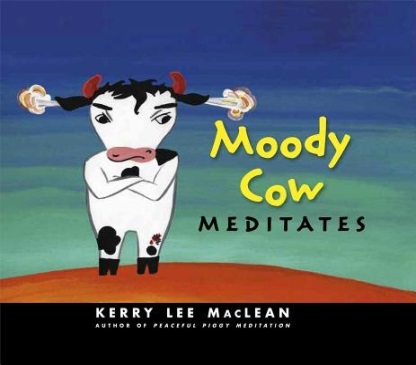 It all started one stupid, rotten day when everything went wrong…
Peter the cow is having a BAD day. After missing the bus and wiping out on his bike he loses his temper and gets in trouble. To make matters worse all the other kids are teasing him, calling him Moody Cow. Peter's day just seems to get worse until his grandfather comes over and teaches him how to settle his mind and let go of his angry thoughts through a simple and fun exercise. This is a wonderful book for parents and children to enjoy. Along with "Happy Panda" is it one of our most read stories in our parenting groups.
3. What does it Mean to be Present. Rana Diorio (2010)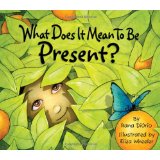 This is the newest book in our collection but we can see it very quickly becoming a favourite. The picture book engages all of the senses to show how to live in the here and now. The story encourages reflections on the important gift of appreciation, giving children and adults alike the opportunity to live more fully and richly in the present moment.
"being present means listening carefully when other people are speaking…focusing on what's happening now, instead of thinking about what's next… feeling the sand between your toes, watching the rolling waves, smelling the briny seaweed… allowing the rhythm of your breath in and out, in and out to make you feel peaceful … when we're all present , life can be much richer, fuller and happier!"
4. The Listening Walk. Paul Showers (1991), Harper Trophy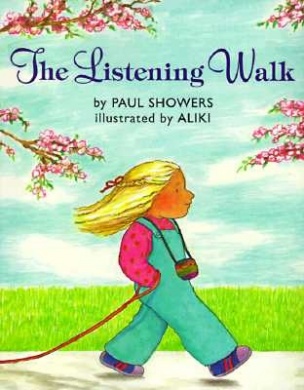 On a "listening walk" with her father, a little girl becomes aware of the many unexpected sounds of their neighbourhood.
Shhhhh… Dont talk… Don't rush…
Take your time. Get ready to explore a world of delightful and unexpected sounds.
First published in 1961, this new edition features gorgeous illustrations by award-winning artist Aliki. An oldie but a goodie!
5. Take the Time – Mindfulness for kids. Rogiers, M. (2009) Worzalla Books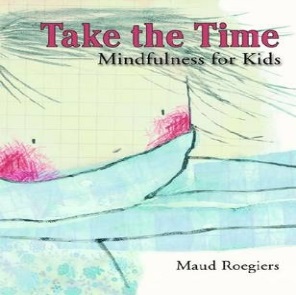 This is a lovely gentle story that parents in our groups really enjoy.
What do we notice when we take the time to stop, listen, and experience? This thoughtful and peaceful book encourages readers to slow down and become unhurried with their day-to-day actions and thoughts. And when a day feels stressful or topsy-turvy, children(and parents) can use such self-awareness to calm down and feel better.
6. No Ordinary Apple: A Story About Eating Mindfully. Marlow, S. (2014)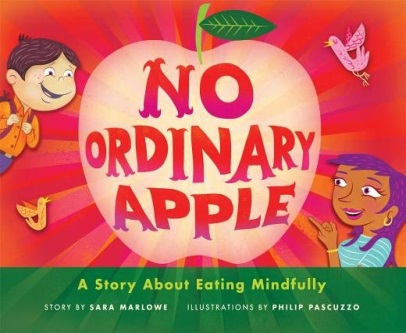 On an otherwise ordinary day, Elliot finds out something extraordinary: the power of mindfulness. When he asks his neighbour Carmen for a snack, he's at first disappointed when she hands him an apple and not lollies! But when he's encouraged focus all his attention to look, feel, smell, taste the apple, Elliot discovers that this apple is not ordinary at all.
Beautifully illustrated, No Ordinary Apple is a fun and enjoyable way to learn about mindfulness – to slow down and appreciate even the simplest things.
7. Peaceful Piggy Meditation. MacLean,K. L.(2004) Albert Whitman & Co.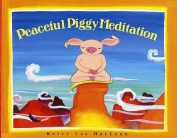 Sometimes life seems like it's all about hurrying – so many places to go! And sometimes it's hard when things don't go your way – it can make a young piggy angry and sad.
So how do little piggies find a peaceful place in a frustrating world? They find a quiet spot, a special place with a few simple things, and just breathe. Aaaah!!! Another great book by Kerry McLean
8. All in a Day. Mitsumasa,A. (1986),Penguin Books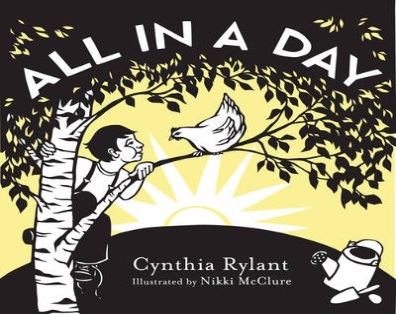 This lovely book delights in all the possibilities a day can offer—opportunities and chances that won't ever come again—a beautiful simple book about mindfully savouring every moment.