One of our heroes: 15 year old Bridget
This article was authored by Dani Colvin,
Coordinator, Partnerships Fundraising and Marketing at the Australian Childhood Foundation.
"We can't do what we do without your support." It's something we at the Foundation tell our donors and fundraisers often, but the frequency with which we say it doesn't make it any less sincere or true.
Financial support is critical to ensuring we not only continue our work with traumatised children, but also expand our reach and keep up with demand. We have more traumatised children than ever who need our support. We also know that for every child, carer or family we help and support through the devastating impacts of abuse, there are countless others who simply aren't getting the specialised help they need, because we don't have the resources to enable us to give it.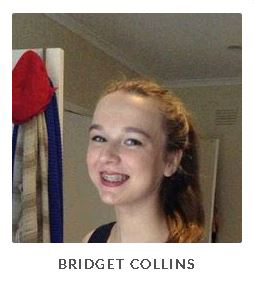 It's why we value so highly the work of community members who decide to raise funds to support us in our goal to give as much specialised help to as many traumatised children as possible.
Yet, becoming a fundraiser is about even more than the final tally, as significant as that is to us and the children we support. It's also about connecting in a powerful way with one of Australia's most critical social issues and the work being done to address it. It's about standing up and showing (rather than telling) your friends, family, colleagues and other networks what matters to you. It's about creating an opening to share with them information they might otherwise not come across, and empower their own awareness and connection. It's about giving those people in your life an opportunity to show love and care by supporting you in an endeavour they know is close to your heart. It's about understanding that we all have the power to make a difference in some way – and it's a chance to use one passion to support another.
Fifteen-year-old Bridget Collins did all of that in one simple but very effective venture.
Bridget and her Grade 10 classmates at Mater Christi College in Belgrave, Melbourne, were tasked with doing a personal project on anything of interest to them. Bridget decided she would like to raise money to support a charity and chose to use her love of cooking to hold a fundraising afternoon tea.
She heard about the Australian Childhood Foundation through a friend of her mum's, Cyra Fernandez, who is Team Leader of our Child and Family Counselling Program at Mitcham. When she researched the Foundation, Bridget learned more about our work and came to understand just how meaningful fundraising was to us and the children we support.
She began planning a menu and trialling different recipes, and set up an online fundraising page through Everyday Hero, which she easily accessed through our website.
"I know I am very fortunate and have lots of opportunities. The Australian Childhood Foundation helps unfortunate children. I think that everyone deserves an equal shot in life and the best life possible so all the money raised at my afternoon tea will go to ACF to support their work," Bridget wrote on her fundraising page.
She sent invitations, directed people to her page to make donations online, and set herself a goal of raising $300. $823.50 later, with 18 attendees and 30 donations, Bridget's afternoon tea was an outstanding success.
We're honoured and delighted to see fantastic people like Bridget commit their passion and energy to supporting our work. We also realise that for many others, the will is there, but there's a natural uncertainty around how to go about it, and the prospect of choosing an idea or event, spreading the word and gathering donations can be more than a little daunting.
So, we've taken steps to make it as straightforward as possible. We've partnered with third party fundraisers such as Everyday Hero and GoFundraise to take all the hassle out of financial transactions. We've also created a fundraising toolkit full of tips, hints, ideas and resources.
Our donor development and fundraising coordinator Kylie White, says: "These days, there is so much great online support available to make charity fundraising much simpler than it used to be. We at the Foundation wanted to capitalise on that support, so we have created the new fundraising toolkit to give future fundraisers for the Foundation all the information they might need, right at their fingertips."
The guide covers:
Participating in an existing event, such as a fun run or triathlon
Creating your own event
Setting up an online fundraising page so you never have to handle money or receipts
Ideas and inspiration
A range of other supporting resources is available also, including emails, event forms, posters, a social media guide and an event checklist.
If enhancing your support of the Foundation through fundraising of any kind is something you'd like to consider, please feel free to contact Kylie at kwhite@childhood.org.au and ask for your free fundraising toolkit today. Then, all that's left is to think about what you love doing, let your imagination run wild, create or join an event that lets you put that love to good use, and get fundraising!