This article was authored by Kim MacKay, Senior Counsellor,
Child Trauma Service Victoria, at the Australian Childhood Foundation.
"A fragmented, damaged and discontinuous personal narrative puts an individual at risk. A child that is lost within her own family, community and culture is adrift, disconnected and vulnerable." – Bruce Perry (2012)
For children who have been removed or separated from their families from a young age and endured a number of changes as a result; access to their history is not as simple as it sounds. If we reflect on how we know our own stories, it usually traces back to family – parents, grandparents, and long term friends; who enrich our present by reminding us of significant events in our past. This is what makes us who we are. Our own personal narratives help us to understand ourselves and give a context to who we are in the present. So put simply, knowing oneself, I believe, is the essence to liking one self.
We know that life story work can be a powerful therapeutic tool in supporting traumatised children to re-connect and heal. But, with the extensive literature behind it, which beautifully explains how this tool can assist and support children to process their trauma, heal and grow, as therapists, this approach can seem a little daunting. Where do we start? How do we even begin to gather the information? Which brings me to the point of this blog; Life story work doesn't need to be elaborate or extensive to be valuable.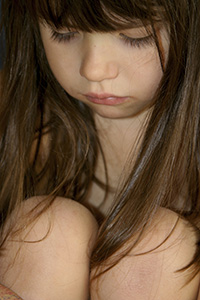 I want to tell you about an 8 year old girl *Kate, who was removed from her parents' care due to significant family violence, substance abuse and mental illness. She experienced numerous placement changes (we believed 9 in total) from the age of 3, and had very little information about her previous families. I started seeing Kate 7 months into a new foster placement. She presented as timid and shy and was reportedly quite withdrawn at school. She made little eye contact and walked with her shoulders slouched. Her foster mother reported that Kate was starting to ask questions about previous families she'd lived with. She remembered names of some past carers and foster siblings, as well as a couple of close school friends she'd lost contact with, but her memory was sketchy. As her Social Worker, I planned to help Kate develop a narrative around her experiences and piece together her life as a series of events.
This task however, proved to be quite a challenge. There were big gaps in the information regarding Kate's placement history due to Kate having been managed by a number of different agencies. However, I was able to find patchy bits of information on Kate's birth parents and a contact number in an old file of a Kinship family who cared for Kate before she went into foster care. They provided me with invaluable information about Kate as a baby, her temperament and milestones. They also passed on baby photos of Kate as well as an old photo taken of her parents as a young couple.
Following a few sessions with Kate and after feeling like we knew each other a little better, I gave her a 'My Life Story' book. Visually, it wasn't much to look at, just a black and white photocopied booklet, with questions and cut outs to add photos. The first page included the statements:
'My name is…'
'I was born….' and,
'My parents' names are….'
Kate hadn't had any contact with her parents since she was 5, and her understanding of this was that her parents were 'not well enough' to take proper care of her.
Once the life story work commenced, I started to learn a lot about Kate, as did her carer. Kate struggled to identify things she liked about herself, but was quick to point out all the things she didn't like about herself, such as her fair complexion and freckles. She wished she had blonde hair, and thought she was 'too skinny'. She also believed she was 'not very smart', and 'not very good at sports'.
After only a couple of sessions, Kate was clearly becoming engaged in her life story work; despite the gaps in her placement history. This got me wondering what it was about the process that Kate found so enjoyable. As the weeks went on Kate's little face would just light up at the prospect of doing more of her life story. Her foster carer, who had also become a significant part of the process, reported that following the sessions, Kate appeared to be standing taller, was making more eye contact and just seemed brighter, 'like she wasn't carrying the world on her shoulders anymore.' Of course, a big factor in the changes we saw in Kate was owed to being in a stable, loving placement for several months. But I believe the life story approach was also a contributing factor.
It was evident that with each session, Kate was building a stronger sense of self. She was excited to hear that she got her dark eyes from her father's side, and her lean, agile frame from her mother. She actually learnt that both her mother and maternal grandmother were particularly strong swimmers when they were younger, and Kate developed a sudden interest in competitive swimming. Slowly, many of the things Kate didn't like about herself started to be outweighed by things she liked about herself.
There were times when Kate felt sad during the process of her life story work, and the foster carer identified that she would become withdrawn and closed off again. However, involving the carer in the process meant that she was able to hold Kate emotionally during these times. It also assisted to build a stronger bond and connection between Kate and her carer.
So the value and power of the life story approach in helping a child to build a sense of belonging and purpose cannot be underestimated. And I believe, as in the story of Kate, that even with limited information about a child's history, we can still do amazing therapeutic work. All we need is to think simple and take small steps. Because for a child like Kate, whose past carried little connection to her present, sometimes even the most basic information can mean the world.
*Not her real name