Sibling Sexual Abuse Series – Part 3
This article was authored by Jaclyn Guest, Senior Counsellor,
Child Trauma Service Victoria, at the Australian Childhood Foundation.
This post marks the third in our series on responding to sibling sexual abuse (you can read part 1 here, and part 2 here). In the past two articles, we have posted about sibling sexual abuse and an integrated model of responding to it that we use at Australian Childhood Foundation. Today, I will explore a case study that illustrates these points.
Case Study
Twelve year old Simon had engaged in sexually abusive behaviour against his 8 year old sister Michaela over several months until they were discovered by their mother. The abuse escalated from touching and looking at genitals to attempted penetration. In the beginning, Simon blamed Michaela for the abuse, saying that she had started it. He felt like he was being persecuted because his parents, who had responded protectively, believed Michaela and are now supervising their contact. Michaela also felt responsible for the abuse, feeling like she had been complicit in doing the wrong thing. Both children are referred to our program for counselling.
The two parents, Mary and Ralph had adopted two very polarised roles in their parenting. The revelation of sibling sexual abuse has further separated them, making it hard to respond in unison. It also revealed significant pre-existing tension in the parental relationship.
Different treatment paradigms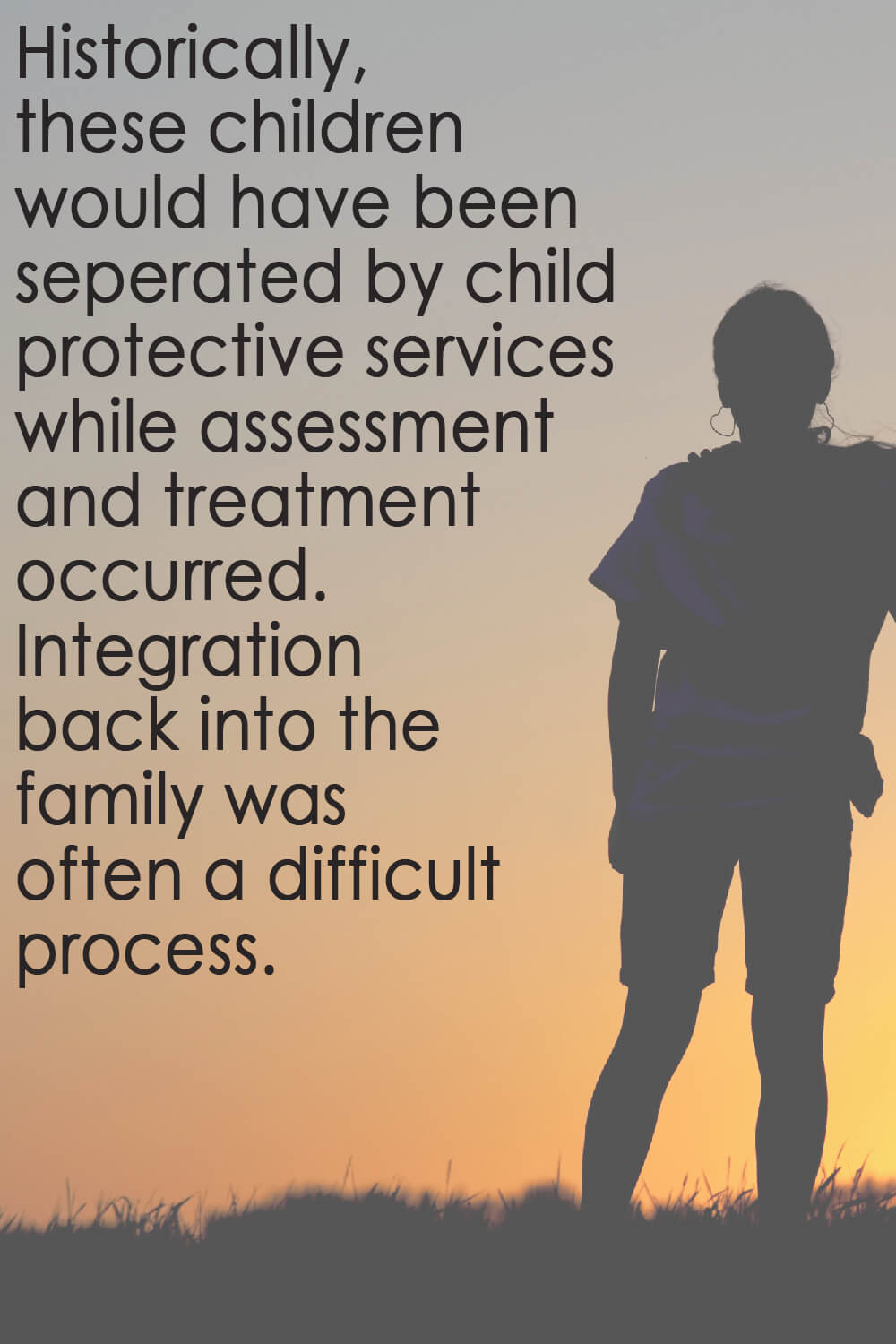 Historically, these children would have been separated by child protective services while assessment and treatment occurred. Integration back into the family was often a difficult process. In more recent times, when parents can act protectively, siblings are more likely to be kept together in all but the most extreme of sibling abuse cases.
Regardless of the therapeutic approach chosen, safety planning would be the first point of contact and require ongoing conversation throughout treatment. Initially safety measures are external to the young person with the sexually abusive behaviour, such as supervising all contact with children. Ideally, as treatment progresses, parents and the young person will internalise the ability to behave safely and ensure safety.
The current prevailing approach in sexual assault services is to refer the siblings to different programs, or to different therapists. One sibling would receive treatment for their problematic sexual behaviour, the other trauma counselling for sexual abuse. A third therapist might be allocated to work with the parents. Therapists would form a care team to share information.
However at the Foundation, on this occasion, one therapist met with the family together and also individually over several assessment sessions. Treatment recommendations were for a brief episode of parent work to discuss the parental (and family) dynamic and the messages both children needed to hear from their parents. Both children then engaged in dyadic work supported by their mother. Simon was assisted in accepting responsibility for his behaviour and its impact. Michaela was helped to address the minimising and avoidant responses she displayed which reflected her role as peacemaker in the family. The children's distress at their parent's relationship was also overted and processed.
Each child had their own therapeutic space but not their own therapist. The mother's rapport with the therapist was helped by the flexibility that she witnessed with each of the family members and the continuity of care her family received. We finished with a sequence of family therapy which allowed them to come together to make meaning of the experience of abuse and to hear from each other how they felt about it. Mary led the way in supporting both children and improving her connection with each of them
Of her experiences with the single worker approach, Mary said, "I believe it gives a better perspective on how the whole family interacts when it is one worker following through with everyone. [It] gives less opportunity for anyone in particular to "hide" from the work that needs to be done. You have been very adaptive to our different styles and personalities and have tailored your therapy to each of us."
Strengths, Weaknesses, Opportunities and Threats
The main strength of the integrated approach is the priority it gives to the healing of the family and family dynamics that may have contributed to the sibling sexual abuse in the first place.
The primary question raised about our approach is whether one clinician can meet the therapeutic needs of the targeted child as effectively as having their own individual therapist. We are prioritising the therapeutic responses of parents and addressing of family dynamics with the assumption that this provides healing and relief for targeted individuals in a way that individual therapy may not be able to provide, given the family will go on being connected for the rest of their lives.
Another weakness raised when we discuss this model is the potential toll on clinician's in managing the often competing needs of family members. However in our experience to date, clinicians are reporting that the collaboration engendered by this model is actually making this work easier rather than more difficult. The capacity for the therapist to hold the family is assisted by the good supervision they receive as well as the support of the team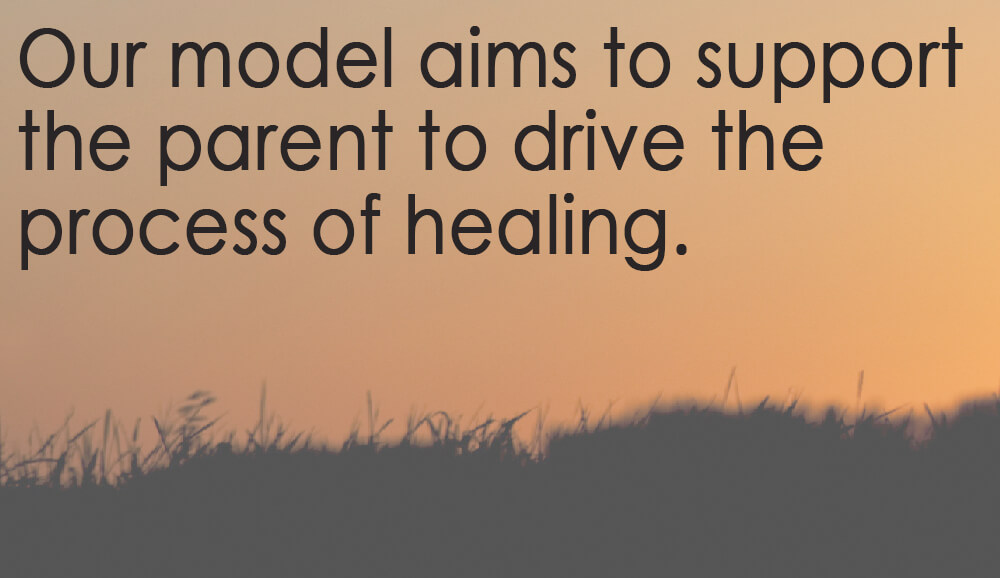 Our model aims to support the parent to drive the process of healing. In the right circumstances this provides the opportunity for the family to heal as a whole, repairing relationships and harmful dynamics which can be very therapeutic for all involved. Theoretically this addresses the risk of further harm through sexual abuse as the function of the behaviour is now longer relevant in the new family functioning. If the young person or parents were unable to engage in a wholistic and reparative approach, we could not be confident about the depth of change in the family However the safety plan will continue to be monitored and addressed with family and other relevant services.. At times when parents are persistently overwhelmed by the needs of both children, they may revert to old dynamics of favouritism, blame, withdrawal. If it is not possible for parents to achieve this delicate balance, the risk is that a targeted child may be left without a sufficient therapeutic response, from therapist or family. This highlights the importance of assessment in identifying families that are more likely to benefit from this model and ensuring that safety is a priority regardless of the therapeutic approach utilised.
Over to You:
Do you work with sibling sexual abuse?
Would you (or your service) consider seeing family members separately and together?
Do you think the needs of a sibling victim can be met with a single clinician who is also treating the rest of the family members?