This article was authored by Marina Dickson,
Program Manager Vocational Training and Education Program
at the Australian Childhood Foundation.
As a social worker, the move into training and education is not necessarily an obvious one. While some people talk about training as giving you 'a rest' from the challenges of direct work, others would rather do just about anything than have to get up in public and deliver training. However, having delivered training courses at the Australian Childhood Foundation over the past five years I have a real passion for facilitating extended training programs and there are several reasons why.
Exploring and discussing theory into practice in depth
Professionals often attend one and two day professional development sessions that focus on a particular aspect of working with traumatised children, young people and families. These are valuable opportunities to explore current research and link it to practice. However, the feedback often tells us that the material was great but it would be so helpful to be able to spend more time exploring, discussing and applying these concepts and skills. This is often a reflection of the value of an understanding of neurobiology and trauma to a range of professional settings and roles.
Developing and facilitating a course focused on the understanding and application of neurobiology and trauma enables that opportunity to explore a range of theoretical constructs and practice application in a significant level of depth- and that builds capacity to use the knowledge and skills in a sophisticated and thoughtful way.
The learning relationship
One of the biggest benefits of a course is the three way learning that occurs. Firstly, there is the learning provided by the facilitator for the group of participants. Secondly there is the learning that occurs between the participants and the facilitator and thirdly, the learning that occurs between the members of the participant group. Courses often bring together professionals from a range of workplaces and roles and the opportunity to share successes, challenges, concerns and questions proves both validating and strengthening.
The therapeutic benefits of attending professional development
It is clear that working with traumatised children, young people and families can be challenging- often stemming from the complexity of working relationally with those who have not always experienced positive, strengthening and nurturing relationships.
Coming out of that intensive work environment into a reflective space, as provided by a learning course, gives professionals the opportunity to stop, relax and even have a bit of fun. This in turn provides an opportunity to reflect on practice, explore new ways of working and share the challenges of both clients and the broader system with professionals with similar levels of experience or perspectives of practice.
Bell, Kulkarni and Dalton (2003) in their exploration of the prevention of vicarious trauma talk about professional education and a varied caseload as being two preventive strategies for professionals working in this field. You can read more about this here.
Linking an understanding of neurobiology and trauma to training
Given the focus of the Australian Childhood Foundation's work is putting the knowledge of neurobiology and trauma into practice, this has to transfer into the learning programs we provide as much as the therapeutic services. The following points can be drawn from the previous discussion to our understanding of neurobiology of trauma: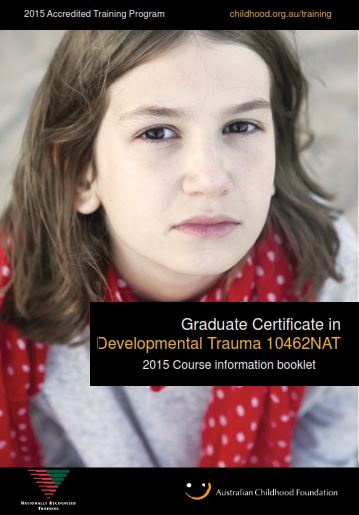 We know that repetition is important for learning from a neurobiological perspective and a longer course enables this repetition of concepts and skills development to occur.
Relationship is a crucial reparative tool in the context of trauma because it is often the site of the damage and thus needs to be the site of repair. The connections that are formed within the learning relationship provide the relational benefits of connection, validation, support and nurture.
Self care strategies, such as varied workloads and professional education, help professionals to maintain a calm state and a calm state enables reflective practice to occur. It is in a calm state that our most complex brain areas, such as the prefrontal cortex, are at their most effective.
This passion for training and its links to my own theoretical knowledge building and skill development has culminated in the facilitation of a trauma focused post graduate qualification- the Graduate Certificate in Developmental Trauma . I continue to be excited by the three way learning of each course, impressed by the commitment of professionals across Australia and clear about continuing to provide learning opportunities that support traumatised children and young people.
Questions to consider
In the spirit of three way learning I would ask you to consider and respond to, or discuss with colleagues, the following questions:
What have you enjoyed most about a professional course you have undertaken?
Have you experienced the benefits of attending a learning program as outlined in this discussion? Were there other benefits to your attendance and participation?
What are the issues of practice with children, young people and families you would most like to share with like-minded professionals?
What do you think are the aspects of a professional development course that you feel are most important to a successful and valuable experience of learning?
Can you identify further links between your understanding of neurobiology and trauma and a professional course?