This article was authored by Dani Colvin,
Coordinator, Partnerships Fundraising and Marketing at the Australian Childhood Foundation.
What is it that makes a person connect so completely with a cause or issue that they are willing to commit not only financially, but also invest their time, their effort, and their heart, in order to give support?
As we at the Foundation are delving deeper into our movement for children (which I've touched on in previous posts), we find ourselves pondering the question often. What it is that tips a person from being a generous and committed financial supporter to one who is willing to sweat and commit to making a difference?
We understand that child abuse and neglect are 'difficult' issues that some people struggle to understand and therefore connect with. But anecdotally at least, it seems that witnessing or being touched in some way by the impact of child abuse is a strong driver for wanting to commit more fully to the safety and protection of children.
It's certainly how the Foundation started as an organisation: we grew out of the frustration of a group of committed social workers, doctors, police and nurses who could see for themselves that the system was failing children.

The late Dr John Birrell was a Victorian police surgeon, and his brother Dr Bob Birrell, a paediatrician. In the course of their work, they saw, and were deeply affected by, the horrors inflicted on children, and so wrote one of the two seminal papers that brought child abuse to public attention in Australia. Describing eight devastating cases that police dealt with in Victoria, they were among those who first named child abuse as a social issue. They devoted much of their lives to it, and were the first patrons of our organisation.
Some fifty years on from their ground-breaking work, another police officer who has seen for herself things that many can only imagine, has invested herself in her own personal quest to make a difference for children.
Det-Sen Const Kylie Williams of the WA police, has just finished running 1016.12km in 19 days (an average of 53.48 kilometres a day) along the Bibbulmun Track from Albany to Perth, raising awareness and funds to support the work of the Foundation.
Kylie was in the Perth child abuse squad for 2 ½ years, until about a year ago, and had seen for herself the devastating impact of child abuse, neglect and family violence.
"I'd worked in suburban offices and dealt with general everyday crimes where perhaps especially around drugs, the people involved had some responsibility for, and resulted from their own choices. But children who are abused are victims through no fault of their own, and that's just so sad," Kylie says.
"As a police officer, you know there's a lot of bad stuff out there because you're dealing with it every day, but until I joined the child abuse squad, I really didn't know how prevalent child abuse is and I couldn't believe the number of cases that would continue to come in. Until you work there, you just don't realise how many people are hurting their kids.
"I had the most amazing upbringing …and the most wonderful parents in the world, and I just can't understand not having that sort of relationship."
Kylie's commitment to the Foundation came, she says, because we take up where the police have to leave off.
"We (police) can go out and move children to safety and deal with offenders, but the nature of our work doesn't see us doing anything more to help the children afterwards," she says.
"The Foundation does so much work in all those other areas – counselling, parent and carer support, education, prevention, community awareness – and I want to do what I can to support that because it's so important."
Running is Kylie's comfort zone – she's done many marathons before, including the 250km Marathon Des Sables, but she decided that if she was going to turn her passion into something that really made a difference, she was going to have to 'go bigger.'
And so began the 10 months of intense preparation for what amounted to 19 marathons in 19 days, plus a charity dinner to support the fundraising element – all while working full-time.
In all this, Kylie gathered around her an extraordinary group of supporters: family, friends, colleagues, and individuals and businesses from her community who were in awe of her goal and wanted to play their part in helping her to reach it. Even while she was running, she was approached by complete strangers who wanted to give support, encouragement or donations. Loved ones dropped in and joined her on the track, keeping her company, feeding her body and soul and raising her spirits.
But it certainly wasn't all plain sailing. Kylie had chosen Bibbulmun because it's mostly off-road and the scenery is spectacular. But the WA bushfires swept through only weeks before her departure date (March 7) and wiped out many of the huts she would have overnighted in, and she was forced to spend much more time running on the road being rattled by passing cars and trucks, than she would have liked.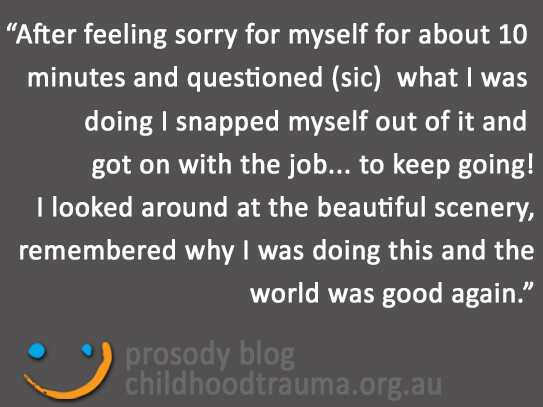 There were times, too, when she was lonely and felt the going was just too tough. But in her typically no-nonsense fashion, she'd give herself a stern mental talking-to for "wallowing in self-pity," and get back to the task at hand.
"After I got off the phone (to her partner and parents) I was quite teary and felt home sick," she wrote in her Day 10 Facebook post.
"After feeling sorry for myself for about 10 minutes and questioned (sic) what I was doing I snapped myself out of it and got on with the job…to keep going! I looked around at the beautiful scenery, remembered why I was doing this and the world was good again."
Now that she's completed her run, nursing tick bites, a blister and having lost 5 kilos but gained about $26,000 to support the Foundation, she says it was all completely worth it.
"I figure that 20 days of pain is nothing compared with what some children and their families suffer on a daily basis," she told the West Australian before she set out.
And for us at the Foundation? Well, we're so deeply moved and so thankful for Kylie and her passion and drive, we can barely find the words to express it. We've received all-important financial support to help us continue to keep children safe and help them recover from the trauma of abuse. The many people Kylie's quest has touched may now know a little more about the issue of child abuse and the work being done to address it, and we have found for ourselves a soulmate.
We have no expectation at all that everyone we connect with will respond in the same way Kylie did – but when it does happen, it's magic.