Changing the language of family violence

This article was authored by Joe Tucci, CEO at the Australian Childhood Foundation.
With the Royal Commission into Family Violence now moving into the public hearing phase, the Foundation made its own submission. One of the arguments that we made was that family violence is an aggregated construct that in itself continues to limit the development of effective social policy.
Family violence is a confused social policy construct. It is a catch all which subsumes within it multiple forms of abuse and violence perpetrated by adults against other adults in the context of an intimate relationship. The term "family violence" is not a definition of the crimes that it constitutes and as such belies the seriousness attributed to it. A perpetrator who is violent towards his partner can be charged with aggravated assault, assault and attempted murder. The consequences of this intervention demand accountability and justice oriented outcomes which are spearheaded by the police and the criminal justice system. However, the persistent use of family violence in the community and in social policy serves to undermine the criminal nature of how it is perpetrated.
Without such clarity, it is our experience that responses aimed at protecting children and then addressing the traumatic impact of such violence has been inconsistent and often left children more exposed to higher degrees of risk, continuing to be emotionally, psychologically and physically hurt. In particular, there is no coherent and integrated approach bringing together statutory child protection services, police, family violence crisis and family support services within a framework of decision making which recognises the seriousness of such violent crime. The system, if it can be called that, is a loose set of services without formal governance structures. It is haphazard in its orientation and almost never consistent in its decision making across regions.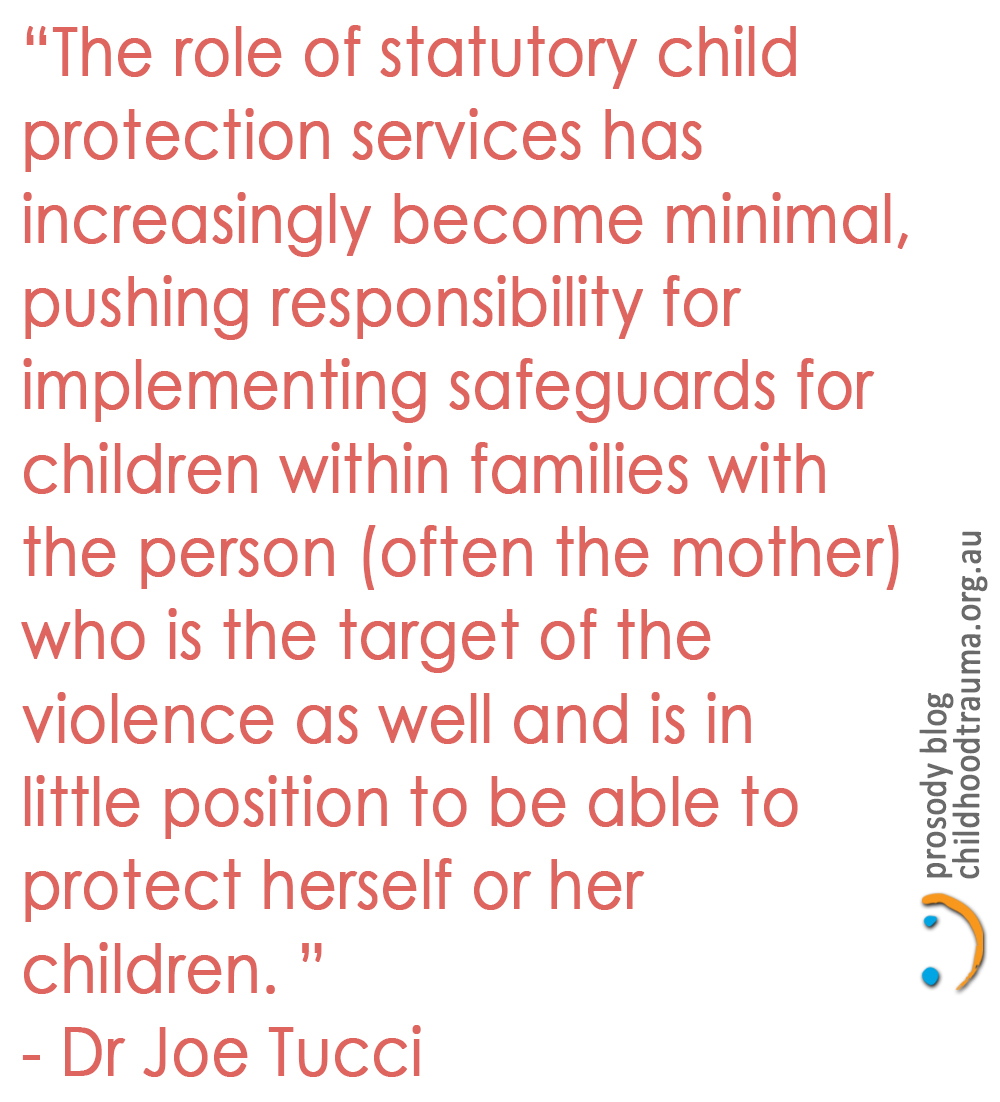 The role of statutory child protection services has increasingly become minimal, pushing responsibility for implementing safeguards for children within families with the person (often the mother) who is the target of the violence as well and is in little position to be able to protect herself or her children. Statutory child protection services have a range of orders which it can use to require perpetrators of violence attend treatment and other support programs. These less intrusive orders also set a framework for supporting the efforts of mothers in their attempts to protect their children. However, these kinds of orders are not the norm.
We support the Safe at Home Approach adopted in Tasmania based on the Duluth Model of family violence intervention. At its core, family violence is treated as a crime against the state and not a crime against the person. The police become informants in criminal proceedings against perpetrators of violence. In effect, there is a zero tolerance to even the smallest breaches of any form of intervention order. Perpetrators of violence are mandated to undergo treatment which is well resourced and part of all criminal justice outcomes. Once positioned as a serious crime, the state, through its agencies such as child protection, are required to work sensitively with the victims to ensure that they are supported and safe in the short and long term.
We believe that at the heart of this change to social policy is the need to adopt a more relevant and useful language construct where Family Violence is understood as and based on the following language and definitional terms: crimes of violence and abuse which are committed by adults towards other adults and children in the context of intimate partner relationships, families and/or households.