What are the essential elements of therapeutic foster care programs?

This article was authored by Janise Mitchell,
Deputy CEO of the Australian Childhood Foundation.
Although foster care aims to provide a safe and nurturing environment for abused and neglected children, it is only in recent years that it has been conceptualised as a form of therapeutic resource through which children are helped to recover from their emotional difficulties and supported to modify any challenging behavioural patterns.
There is increasing interest in models of therapeutic foster care in out of home care systems seeking to improve outcomes for traumatised children removed from the care of their parents. These programs conceptualise foster parents as therapeutic agents of change and recovery for children.
With the increasing interest in therapeutic approaches to the care of traumatised children and young people that are now many programs that describe themselves as therapeutic foster care, and these can differ significantly. In this article, I have listed the core elements that I believe are central to the delivery of foster care which has a trauma informed therapeutic intent.
Clearly articulated practice framework based on the neurobiology of trauma and attachment.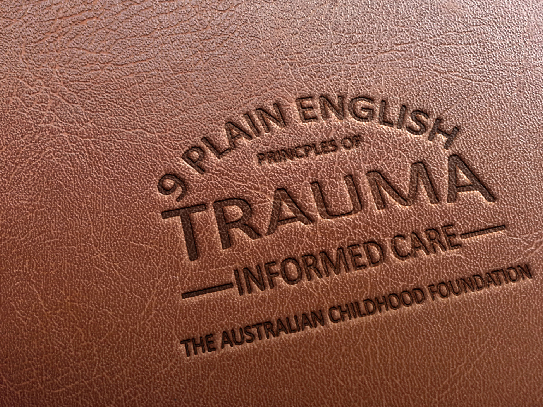 All therapeutic foster care programs should be underpinned by a clearly articulated theoretical approach that is translated into practice by carers, support and clinical staff. In a previous article, Joe Tucci and I described a clear set of principles that should underpin trauma informed care. You can read it by clicking here.
Neuroscience has opened up a way of understanding the developmental impact of trauma and attachment disruption – from the inside out. This is the key element of such a framework. It needs to make sense for carers. It needs to be practically relevant for carers. And above all, it needs to help carers gain an insight into the drivers of children's behaviour during their experience of out of home care.
Traumatised children require a parenting approach that is sensitive to their needs.
Therapeutic foster carers must provide a therapeutic environment in which opportunities for recovery are present in the ordinary, everyday experience. The primary way in which carers enact a therapeutic environment is via what have been called therapeutic parenting. Therapeutic parenting is an important means through which the evidence base associated with the neurobiology of trauma and attachment are integrated in practice. I have written about therapeutic parenting in a previous article – it may be worth reading this again by clicking here.
Using therapeutic parenting, carers are more able to:
offer relationships within which children experience safety and security,
maintain a positive but realistic picture of the child,
look at the meaning behind children's behaviour,
offer consistency, routine and predictability.
Assessment and therapeutic care planning and review
Comprehensive assessments form the basis of a therapeutic care plan developed for the child. The therapeutic plan is the key connection between the past set of children's unique experiences of trauma and their current relational needs – identifying the developmental implications of the child's past with a full understanding of how the child interprets themselves, relationships and their world.
Assessment and review processes must be embedded in all forms of effective therapeutic foster care. They allow for the ongoing evaluation of the effectiveness of the therapeutic parenting approach adopted and opportunities to further tailor the therapeutic care plan to the evolving and changing needs of the child. Careful assessment of how children view relationships with others is critical to supporting carers to understand how to parent children in foster care in a way that will challenge unhelpful relational templates and allow children to begin to develop positive, trusting and supportive relationships with adults and others.
The therapeutic care plan must incorporate all others who play an important role in children's lives and include multiple interventions directed at the level of the child, the family and factors in the wider environment.