Resource Highlight – The 3D Brain

This article was authored by Lauren Thomas,
Online Professional Community Manager at the Australian Childhood Foundation.
Several years ago, when I first started working at the Foundation, our CEO Joe Tucci recommended I check out an app called the 3D brain. As a professional with a keen interest in neurobiology, I was really excited when I opened it up and saw what it could do!
The '3D Brain' is an interactive brain map that lets you rotate the brain in three-dimensional space. You can view it online here, and it also comes in an app for your phone (apple and android) or tablet which you can search for in your app store or market place. There are individual maps of 29 structures include information on brain damage, case studies, and links to modern research. Their website says it is "ideal for students, researchers, and educators in psychology and biology" but I have to add that I have found it particularly handy in psycho-education with children as young as 8 right through to parents.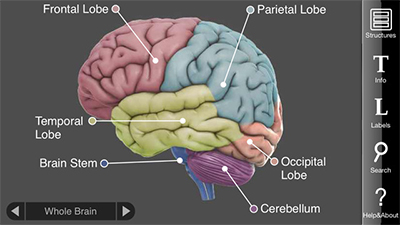 I remember one 10 year old boy in particular who really struggled to manage his emotions; he had difficulty calming down, and like many children who have experienced trauma, found he was often sent outside his window of tolerance with little to no notice. He was troubled by this, and believed it prevented him from making good friendships. In my time with him I decided to talk to him about how his brain was involved in what was happening, talking about the Amygdala and its role in keeping him safe when the brain detects threat. He looked sceptical, and asked me how I knew, so I pulled out my tablet and showed him the 3D brain, highlighting the amygdala and discussing it further. Since the computer had now shown him, he believed me! He also got very excited and told me that I "had to tell his Mum"!
So, for whichever reason you use it, I have no hesitancy in recommending the 3D brain. I hope you enjoy it as much as I have!