'No coughing for me, but I'm okay!' – Learning to listen to practitioners' body stories in human service work
This blog article was authored by Jo Mensinga. Jo is a lecturer in the Social Work and Human Services Program at James Cook University, Cairns and is also a qualified yoga teacher. She worked in child protection, relationship counselling and with women's health issues for 15 years before becoming an academic. Her current research interest is understanding human service workers' use of the body and the ways they construct an embodied professional self in practice.
For several years now I have been exploring how human service workers (mainly social workers) use and understand their own bodies in practice. At the recent International Childhood Trauma Conference I presented a paper about the body stories a domestic violence worker (whom I call Coral) told about working with traumatised women and other professionals in the sector (You can see the slides from the presentation here). She is one of 9 women I interviewed for my PhD research and is based in northern Queensland. I interviewed her twice as part of a focus group and also once on her own. It's important to know that one of the goals I had in interviewing workers was to identify what power structures and strategies existed in the community that helped support or discouraged them from being able to listen to and understand their own body stories.
SOME BACKGROUND:
In 2011 I wrote a paper about the importance of exploring the 'feeling of being a social worker' and how I had found it odd that the body and embodied knowledge was not debated much in the professional literature or taught more in human service professional courses at university . While I understood that the body had been a source of discrimination (e.g., race, gender and physical ability),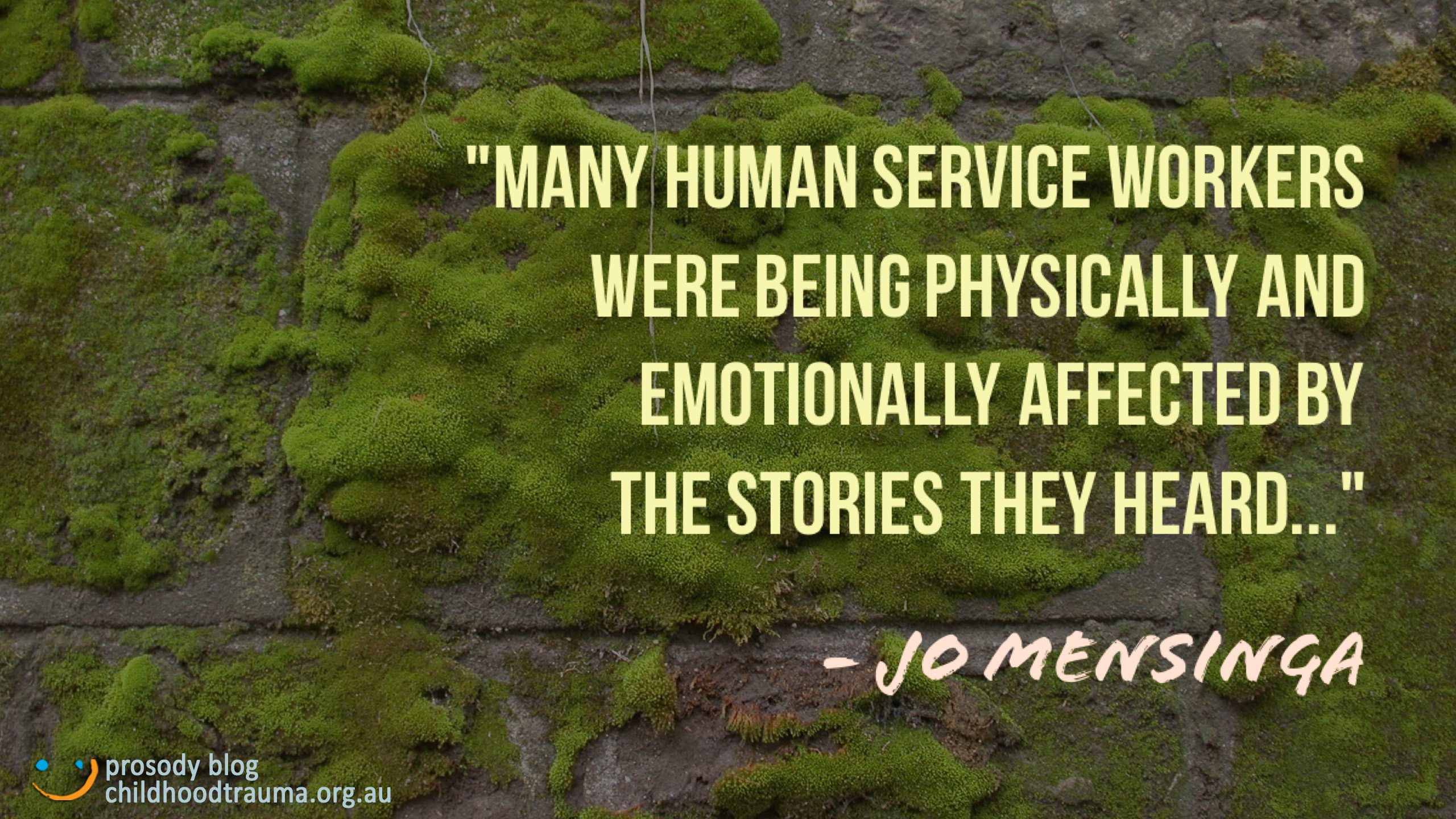 I also knew that many human service workers were being physically and emotionally affected by the stories they heard and that doing an assessment in people's homes could be challenging.
Harry Ferguson (from the UK) is one of the few academics who write about how well child protection workers do their job can depend on things like smells and the vibes they encounter when visiting clients' homes. Nadine Cameron and Fiona McDermott (from Melbourne) have also written a book called 'Social Work and the Body' which provides a thorough overview of research done about the body in the social sciences and neurobiology and describes how this knowledge can be applied to become a 'body cognizant worker'. However, in general, there is not a lot out there informing human service workers how to navigate their own somatic maps in practice.
CORAL'S STORIES:
Coral was the youngest of the 9 participants (34) I interviewed and had a BA in Human Services and had been working at a Domestic Violence for more than 5 years. Coral was very aware of her own body and was able to articulate well how she worked with it in practice. At the conference I highlighted stories that she told about: (1) her perception of being able to talk about the body in the sector (CONTEXT); (2) about how she experienced her own body in practice (EXPERIENCE); (3) how she learnt to listen to the body (LEARNING ABOUT THE BODY); and (4) her observations of listening to the body at work (PRACTICE).
(1) CONTEXT: Coral's stories revealed that talking about how she used her body was only 'allowed' in the counselling room. She noted that her manager was from a different professional background and found discussing interventions uncomfortable and 'lefty'. Coral also stated that she did not talk about embodied experiences in the sector because to do so would prevent her gaining any legitimacy as a worker.
(2) EXPERIENCE: Coral noted that she often paid attention to her gut when working with clients and used this information to explore things more deeply. She also described how her approach to work was reflected in her body size. Being overweight for her meant that she was better able to stand her ground when advocating for her clients in the system and expressed concern about what may happen if she lost weight.
(3) LEARNING ABOUT THE BODY: Coral stated that she had learnt how to use her body to regulate her own emotions and those of the women with whom she worked when she worked in the tourism industry and not at Uni. Coral also pointed out how uncomfortable she found it to participate in role plays, noting that the body reveals a lot more than what a person can say which, in her opinion, left workers at risk of developing a poor professional reputation. She was much more comfortable having other workers sit in on her sessions with clients to observe how she worked.
(4) PRACTICE: Coral also gave some insight into how workers' bodies were affected by clients' stories at work. In particular, she noted that others would talk about 'taking on the client's energy' which would make them either have a coughing fit or get a tickle in the throat. Coral also noticed that she didn't experience the same and wondered if it was because she had worked in the sector too long and had become desensitised to the clients' stories. After some discussion, however, Coral identified that she worked differently to the other workers and talked about 'grounding herself' when working with clients rather than experiencing and talking about 'coping with energies'. She concluded her stories by saying 'No coughing for me, but I'm okay!'
Although Coral had worried about working differently to others, she was also keen to point out that she was glad that she and the other workers felt safe enough to talk about their embodied experiences in the workplace. Even though the manager's views impacted their discussions somewhat, being able to talk was important. In fact, listening to Coral and the other participants' stories, I have come to the conclusion how important it is for workers to share how they experience clients' and their own bodies and embodied understandings in practice. Not only does it provide a richer account of practice but it enables workers to better address clients' needs and attend to their own wellbeing.