The Enchanted Forest: A Magical Place of Healing for Young People in Residential Care
This article was authored by Anna Fasolo, Therapeutic Specialist at the Australian Childhood Foundation.
In our work in the Therapeutic Care program at the Australian Childhood Foundation, we find there is a persuasive need for "trauma-informed" approaches for working with young people in a residential setting who have experienced complex trauma. These young people often have difficulties with affect regulation and impulse control, which affects their daily living and disrupts their ability to activate their social engagement system (thank you Porges!). This means that forming safe and trusting relationships can be very challenging for these young people. Together as the Agencies surrounding these young people, both Anglicare and Australian Childhood Foundation began thinking about what we could do to help them.
With the inspiration from a Magical Fairy Land that I worked in when I was young and living in Perth, we created an Enchanted Forest themed sensory room to
assist with affect regulation and arousal control

support safe and healing relationships between the young people and residential carers

increase the sense (or neuroception as Porges would call it) of security and safety for the young people.
The unit coordinator and her amazing team, in consultation with Australian Childhood Foundation focused on creating an environment that felt calming and safe through careful selection of the materials used, the placement of objects, the sensory tools, the music, the light and the fragrances. We ensured that sensory experiences were created through magic sand, playdoh, bubbles, sound and lighting, a rocking chair with a massager, tactile objects and a wide range of interactive games that create a magical atmosphere for all. Included were items directed towards the five senses: 1) touch – kenetic sand, playdoh, gak, squishy toys, lotions to rub on their skin, pillows to arrange for comfort; 2) smells – an oil diffuser using different scents; 3) taste – different types of candies or chewing items for taste; 4) hearing – a music system with a variety of relaxation CDs; and 5) visual – many different types of lighting that the young people can control in a way that they find helpful. Through this increased sense of safety and security, the therapeutic relationship between the carer and the young person was able to strengthen, which (as we know!) is the primary tool in assisting in the healing process from childhood trauma.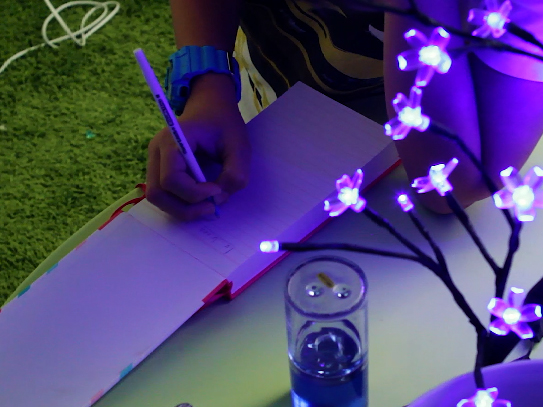 The Space provided a safe and structured environment where the young people could practice skills to use when they might be in higher arousal states in the home. The carers also incorporated the Enchanted Forest Sensory Room into the daily routines operating within the home. The young people were encouraged to use the Space in the mornings before school if they are feeling dysregulated. It is also used at night time before they go to sleep as part of their bedtime routine. The young people are now able to identify when they need to use this space if they are feeling unsettled or anxious and will find a carer who will spend some time with them.
Young people in Residential Units have an extraordinarily high prevalence of trauma in their stories. The young people we are currently working with have a complex history of trauma and loss, including exposure to high levels of family violence and substance misuse, neglect and familial victimization that has impacted on their development. They all have difficulty trusting that adults will consistently meet their needs. It was initially thought that upon entering our Therapeutic Residential Unit that these children would need intensive therapy to help them to process their issues grief and loss and integrate their history of trauma into their narrative. As we know, for therapy to be successful, the child must be sufficiently regulated, organized, grounded and present, so that language, imagination, and symbolic expressive function can emerge. It was for this reason we thought a sensory room could be incredibly beneficial in a Residential setting as regulation was fundamental for relationship building and therefore healing to occur.
Residential Houses aren't always known to be calm, soothing homes. The Enchanted Forest Sensory Room not only provided the young people with a safe, calming place to be, it provided increased opportunities for the carers to engage with them, in a meaningful and (maybe most importantly) fun way.