An Interview with Foundation Ambassador – Clint Newton

At the Foundation, we firmly believe that when the Australian community – and all levels of government – are supported to better understand the issue of child abuse and its devastating impacts, they will feel empowered and inspired to act to ensure the safety of our children becomes a national priority.
It's what our movement for children is all about; creating opportunities for open, honest and engaging conversation that shines a light on a once-taboo topic will help each of us recognise the role we can play in the protection of all children. Transparency, connection and uniting for the common cause of defending childhood are the way forward in making children safer. And that's just one of the many reasons we are so thankful for our wonderful ambassadors. When they talk, people listen.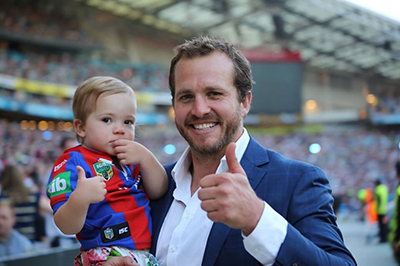 Clint Newton, General Manager Player Relations of the Rugby League Players Association (RLPA) and former player for the Newcastle Knights, Melbourne Storm and Penrith Panthers, is one of our most passionate advocates for children.
A committed family man with a young daughter of his own, Clint is motivated to be a positive influence in his community. Clint has for years been very vocal in speaking out against domestic violence and is now, as one of our newer ambassadors, being the change he wants to see for children impacted by family violence, or who endure abuse or neglect. "Our responsibility as parents and as a society is to not only look after our own children but all children, and keep them safe from abuse, violence and neglect," he says.
We asked Clint to reflect on childhood and he shared some wonderful insights with us.
What's your vision of what childhood should be?
Childhood should be full of mistakes without judgement, compassion, validation, guidance and a lot of love.
What is the strongest positive memory of your own childhood? Do you remember how that felt to you as a child?
My home. It was my safe place. My strongest memories are feelings, not moments.
How do you feel when you think of that memory now?
Having developed a greater level of understanding of just how many children are exposed to neglect and abuse, I feel so incredibly grateful for the childhood my parents and family provided me.
What did you dream of as a child? What did you want to be when you grew up?
I dreamt of becoming a Rugby League player and that became a reality.
Did you ever imagine you'd be where you are now? If not, what did you imagine for yourself?
I always had hope that I'd be right here where I am now, but didn't really know if it would become a reality or not because it seemed like such a far away place from what I thought was possible, due to some people's (outside my family and friends) lack of confidence in me.
So what helped you get there?
I knew I always had the love and support of my family which no doubt laid a great foundation, but when my peers (friends) didn't give up on me, it gave me more confidence to think it was possible. Once I committed to doing all I could to achieve my dream, personal resilience and self-belief which came via hard work, brought it all together.
What do you think might be a consequence of not having that kind of support as a child?
In my mind, support and validation are crucial to helping you reach your true potential. They provide the scaffolding needed to weather all the storms that come throughout those early years in your life when you still haven't truly found where you sit in the world and what you are capable of achieving. This generation of adults, mentors and advisors are absolutely in charge of providing the next generation with hope and a belief that you are capable, but this is all underpinned by understanding your own personal values – what is actually important to you and why.
What do you think when you hear of, or meet, children who have been robbed of their childhood, their sense of self, and of their hopes and dreams, by the trauma of abuse, neglect and family violence?
I feel pain; I think about how there is potential greatness that sits inside every child and that someone has let them down.
What's your greatest wish for these children?
To believe they are worthy of being loved.
Where do you think community fits in with a child's wellbeing and what role does – or should – it play?
I would say the people within the community need to provide the right environment through living the values which enable children to thrive. People have to show they genuinely care about the next generation before that generation can truly believe they have a purpose.
To people who feel that they can't make a difference, that the problem of child abuse is too big or someone else's issue, or too overwhelming, what would you like to say?
You are not powerless, we'll do it together, you are not alone. Past, present and future children are relying on us not to give up.