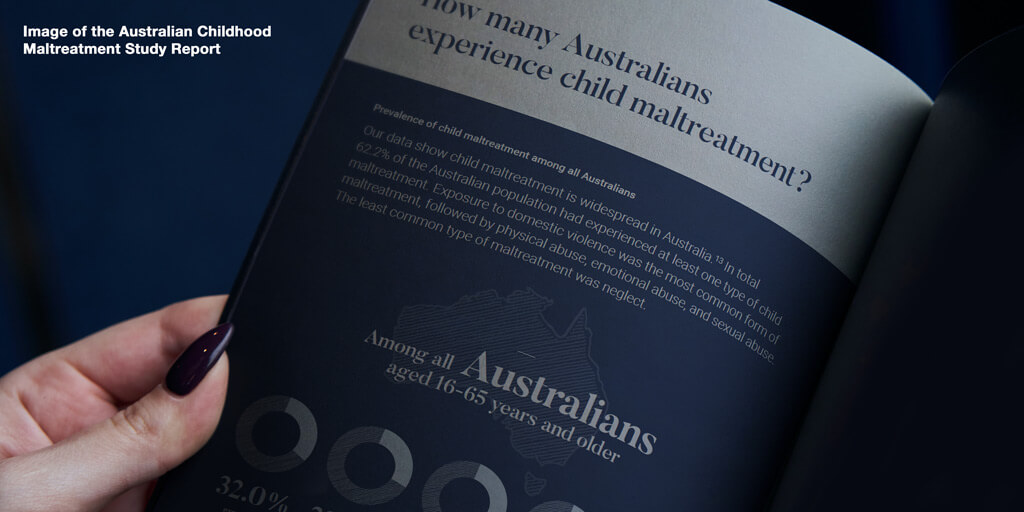 Child abuse numbers demand our attention
'Child abuse numbers demand our attention' blog article was written by Dr Joe Tucci, CEO of Australian Childhood Foundation.
Numbers can often reveal powerful truths that demand attention.
In the Saturday Age on 17 June, 2023, there were four different stories about child sexual abuse. All in one day in one newspaper.
The AFL was under pressure to review footballer Barry Cable's membership of the Australian Hall of Fame because he was found guilty of sexually abusing a child when he was a player fifty years ago.
Liberal MP, Brigette Archer, a survivor of child sexual abuse herself, described the experiences in parliament last week which started with the leaked private text messages of Brittany Higgins, as "triggering" and "retraumatising".
Ex-policeman, Mario Didulica, was found guilty of sexual penetration of a child under 16 years in 2009 after having exchanged more than 30,000 calls and texts with the girl over a two-year period.
Former Hillsong Church leader, Brian Houston, was in court fighting charges for failing to report his father for child sexual abuse after he had learned about it in 1999.
Each of these stories holds other numbers that illustrate the ways in which child sexual abuse affects the lives of children over the course of their lifetime.
Victims and survivors of child sexual abuse can take over 20 years before they tell someone what happened to them. They may have tried to disclose earlier only to be met with disbelief which silenced them. This is even more real when the perpetrator who abused them held undue influence in their community – like a well-known football player, a church elder, or a police officer.
Child abuse thrives when numbers of people do not act
All child abuse, and in particular sexual abuse, often thrives when numbers of people do not act. Brian Houston was reported to have told thousands in his congregation about his father's abusive behaviour, but not the police. During the trial of police officer Mario Didulica, the Crown prosecutor had said that his colleagues and manager at the time were aware that he was in an "extramarital relationship with the girl", but it took 13 years before he was brought to justice. The language used to describe the sexual abuse of his victim as an "extramarital relationship" highlights how two weasel words perpetuate the myth that children are somehow complicit in their own victimisation, which of course they never are.
Most insidiously of all, the use of a mobile phone to overwhelm a child with 30,000 texts and calls provides a peek into the reality that an ever-increasing number of children are being manipulated using technology. In the online environment, children are tricked by individuals who claim to be other children but are really adults grooming them to abuse and exploit them.
Sadly, these four stories, as evocative as they are, form a fraction of what we now know are the numbers of children and adults who have experienced childhood abuse and neglect.
The numbers demand our attention
In the first ever-piece of research of its kind, the recently published Australian Childhood Maltreatment Study, led by Law Professor Ben Matthews from QUT and a group of highly qualified academics from multiple universities, found that almost two in three Australians over the age of 16 years have suffered at least one form of serious abuse or neglect when they were children.
Almost three in 10 (28.5%) had endured child sexual abuse. That equates to approximately 4.5 million individuals living today who have carried that experience with them for their whole adult life. Even more shocking is the reality that when child sexual abuse occurs, it rarely happens only once, with almost 2.5 million adults experiencing sexual abuse more than six times as children.
It is the same for other types of abuse. 32% of all Australians – or 5.8 million people – over the age of 16 years reported being hit, punched, or beaten as children. Of those, about 1.2 million experienced physical abuse over fifty times.
Seven million (39.6%) people have been forced to live with and been exposed to family and domestic violence when they were young.
Horrifically, the study highlighted that a significant proportion of individuals experienced more than one type of abuse concurrently. In fact, 4.8 million Australians suffered between three and five types of abuse at the same time during their childhood.
The impact of such trauma reverberates across all ages
As Brigette Archer pointed to, the intensity of trauma from childhood abuse can come flooding back in response to events and experiences that occur in the every day. Conversations, interactions, sounds, and media reporting can be points of acute activation of past memories of fear, confusion and betrayal.
The study found that many who had experienced emotional abuse, sexual abuse and multitype abuse suffered from major mental health problems in adulthood. Indeed, it was comparatively rare for anyone who is 45 years and older to experience a major mental health disorder if they had not been a victim of abuse or neglect as a child.
With these numbers so high, it might be appealing to dismiss them or not believe them. In the Australian Childhood Foundation's own research, child abuse is consistently rated lower than roads and footpaths on a list of community concerns. It is as if there is a collective denial of the problem with a preference to believe that it is happening in some other family, some other neighborhood, not our own.
But these numbers do not lie. And more than that, the government and community cannot afford to turn away from them.
The government and community cannot afford to turn away from these numbers
The Albanese Government has shown strong support for all of the actions recommended by the Royal Commission into Institutional Responses to Child Sexual Abuse originally set up by Julia Gillard when she was Prime Minister.
But it must do more. There is still not enough coordination of effort to prevent child abuse and neglect of all types. There are separate national strategies aiming to tackle child sexual abuse, improve the protection of children, stop violence against women and children, and address the rising numbers of young people being abused and exploited online. There are other national strategies that aim to improve children's mental health and early childhood development. But is this the best way to approach it? Children do not live in the world made up of distinct policy frameworks or government departments. They live in families and experience one reality where the risk of violation is commonplace.
Surely, a single independent permanent statutory national body is required to take responsibility for long term investment and policy development regardless of which government is in power and any shifts in political will. In fact, we had one of these exact bodies 30 years ago and it was disbanded. It was called the National Child Protection Council. It is time to resurrect it and give it the authority it needs.
Critically, numbers can sometimes expose a buried truth
Since federation, Australia has had 27 Governors-General, 31 Prime Ministers, 19 Deputy Prime Ministers, 41 Treasurers – and only ever one Minister for Children. It is time to re-establish the role and give it a seat at the Cabinet Table.
If nothing changes and these rates continue, then of all the children who have been born in the past ten years, over a million of them will suffer at least one type of serious abuse by the time they are 16 years old.
This is not a number we should be prepared to accept.  
A portion of this story appeared in an Opinion Piece by Dr Joe Tucci, published in the Herald Sun on 27/6/23.
Subscribe to the Professionals Newsletter
Join our community of more than 40,000 professionals from around the world who receive our weekly newsletter containing articles. Our newsletters help connect you to our blog, research, and free resources as they are produced. We also keep you informed on training opportunities including access to experts in the field, webinars, international speaker tours, conferences and more.