Working With Children Checks

This article was authored by Helen Barnes,
Senior Advisor, Safeguarding Children Program at the Australian Childhood Foundation.
Recruitment and screening processes forms an important part of minimizing the likelihood of unsuitable people commencing work or volunteering with an organisation.
For an organisation that delivers services to children and young people, it is particularly important that individuals are screened for whether they pose a potential risk to children and young people. One way of determining this is by checking their background criminal and reportable history.
Within Australia, each state / territory has unique requirements for these checks. It is therefore important that an organisation understands which legislation and standards / processes that apply to them.
As a start for you in understanding these checks, we've noted below some key, high-level information for you. The Australian Institute of Family Studies has developed a more detailed document which details the different requirements as well as links to each of the relevant state and territory websites.
We are also happy for you to contact the Safeguarding Children Program if you'd like to discuss this information, however, please do not consider this summary or our conversations as legal or authorised advice for undertaking these checks. Please instead ensure that your organisation reviews your state or territory legislation and contacts your relevant local authorities when seeking advice and confirmation of your approach when implementing these checks.
Pre-screening in Australia
The two main types of child-related work screening processes in Australia are the National Police Check (Police Check) and a background child-related risk assessment (most commonly known as Working with Children Checks – WWCCs).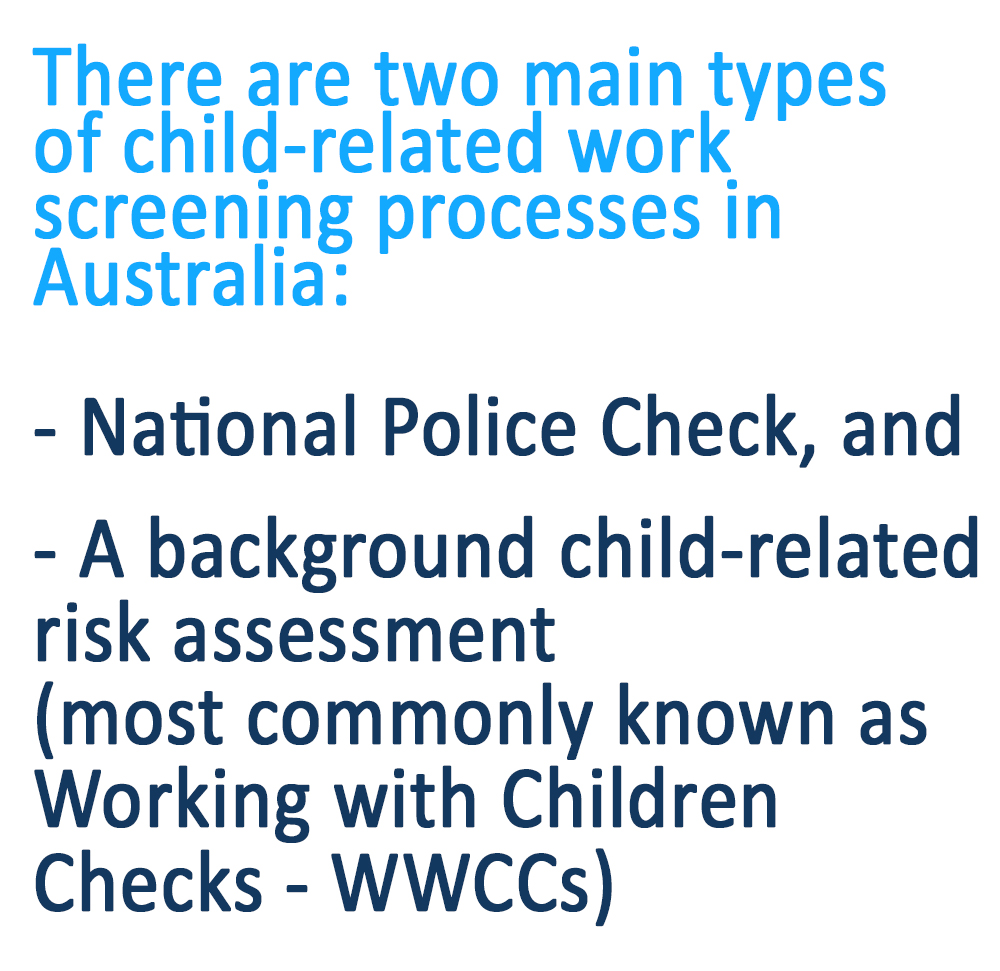 A Police Check is an Australia-wide service undertaken by the Australian Federal Police. It identifies relevant criminal history information relating to convictions, findings of guilt, or pending court proceedings.
A child-related risk assessment is a state-based service which enables more targeted screening according to child safety needs. Each state / territory varies in the range of sources considered, and whilst there are some exceptions, child-related risk assessments are generally not transferable between the states and territories. Most states and territories undertake an 'individually-based' child-related risk assessment process. These assessments provide for a centralised system implemented and monitored by a state government entity, which has the authority to certify an individual as appropriate to work or volunteer with children and young people. As it is tied to the individual, the assessment is generally transferable between jobs.
South Australia (SA) and the Australian Capital Territory (ACT) undertake a different approach.
SA undertakes a non-centralised, employer-driven screening process. Accordingly, employers may choose to undertake their own child-related risk assessment, or to engage the services of an SA Government specialised screening unit. Employers can then determine whether the risk assessment precludes or not the individual from working with them. The process undertaken and decision-making must all comply with SA Government mandated standards. Employers may also choose whether to accept an individual's previous assessments, therefore making this check only transferrable between jobs in these circumstances.
The ACT has a system that assesses an individual's eligibility to work with vulnerable people more broadly (i.e. rather than just children). The most commonly issued outcome is a 'general certification' which has similar conditions to the 'individually-based' child-related assessment (which means an individual can move between jobs). There is also a 'role-based' registration which restricts the check to only that job, and a 'conditional registration' which imposes specific restrictions on an individual's registration.
Other key variations between all of the states and territories include:
how long the checks are valid (if individually-based, usually between 3-5 years)
the minimum age an applicant needs to be (ranging from 15 to 18 years of age, and this can vary between employees, volunteers, contractors and others)
the types of services requiring a check (i.e. there are varying classifications between states / territories of what is a regulated and child-related service).
You are not alone if you feel that these differences are confusing to navigate. The Federal Government has committed to developing a nationally consistent approach under the National Framework for Protecting Australia's Children 2009-2020.
The Australian Childhood Foundation Safeguarding Children Program also notes that whilst these checks are very important, they are not the only activity required by an organisation when recruiting and screening applicants. Other key activities include rigorous interview procedures and reference checking, as well as a strong culture of active vigilance towards safeguarding children and young people.