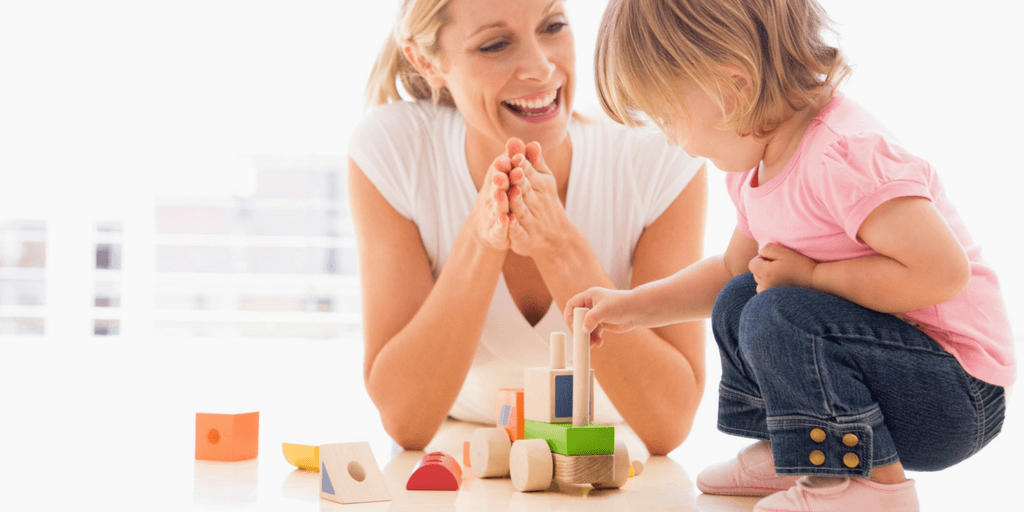 This blog was written by Kylie McKenzie,
who is a Therapeutic specialist in the Therapeutic 
Care Program at The Australian Childhood Foundation.
The voices of infants and young children often become lost in the chaos and uncertainty of family violence. With limited experiences of their primary care giver as safe and contained and their 'attachment' relationships continuously under threat, the voices of infants and young children generally aren't heard until their experiences have caused an insurmountable rupture in the relationship between the mother and child. By this time the behaviours that the child exhibits are often misunderstood as 'naughty' or 'defiant' behaviour rather than an adaptive response to adverse conditions in their primary attachment relationship. Compounding this is the overwhelming guilt that mothers have for their children's experiences.
Mothers often find it particularly difficult to acknowledge the deep and lasting impact that family violence has on their child. The guilt and shame makes it particularly challenging to work through the issues with mothers in a practical way, however helping mothers and children to find ways to strengthen their connection through play provides opportunities for the dynamic to shift and can offer new pathways for the relationship to move beyond their experience of family violence and disconnection.
When S and her mother first came to the group, S was reluctant to enter the room and on the first day she insisted on leaving before the snack break. But her mother was persistent and knew how much they both needed to spend the time together in a safe and secure environment. The next week they attended was just as hard, but S's mother was determined and even though S was unwilling to participate, her mother showed her that it was ok to let her guard down to play with the other mothers and children.
Eventually S couldn't resist. Seeing her mother playing in the wheat and making up stories drew S in and moments later S and her mother were deeply enthralled in an imaginary game in the tub of wheat. Their heads were bowed and touching and they were whispering conspiratorially and giggling.
S's mother told me later that week that this was a new experience for her and her daughter. She had stopped playing with her children years ago when the family violence had been so horrific that she thought that she may not survive. S's mum had actively decided to disconnect from her children as she thought that this would lessen the pain if she died at the hands of her partner. The group had taught her how important it was to play with her children. She remembered the joy and delight they both got from fun, playful activities and although they didn't attend any more group sessions after that, she said she now made a point of making time to play with her daughter every day.
Many of the mothers who join the group comment on the challenges that they face attending regular mothers groups. The work that we do in the Popping Bubbles group aims to ameliorate some of the impact of the family violence on the relationship between mothers and their children in a way that is non-confrontational, non-shaming and non-judgemental. We deliberately choose activities that help bring mothers and their children together in a playful and fun way. Games like peekaboo, playing with mirrors and using cylinders to look through help children to gently and playfully connect with their mothers through eye contact.
E was initially unable to look at her mother. She would seek out the facilitators to engage in play/activities over her mother. As the group progressed, her mother started to say the things she loved about E aloud more and E witnessed this.
She was so proud of her toilet training and gave her lots of praise and E used this as an opportunity to repeat what she had mastered – washing her hands. She did this to master what she had learnt, but she also knew that her mother would praise her and use prosody of voice and smile and say all positive things.
The highlight was seeing them do a nursery rhyme together, facing one another and making eye contact and sharing joy and delight in one another at the end of the group. And seeing them cuddled up quietly enjoying each other's company during the final activity under the parachute.
Touch and sensory activities form an important element of our group work and and we use a range of activities such as baby massage, action nursery rhymes and sensory play. In fact, we didn't realise how important this aspect of the group work was until we had observed how challenging it was for some of the children and mothers to participate in activities at the beginning of the group sessions. We decided to start each group with sensory play opportunities such as playing with sand, playdough, shaving cream, cooked spaghetti etc and we noticed how much easier it was for the children and some of the mums to join us on the rug for a song and a story. We had underestimated how important it is for some people to use touch as a way to regulate.
A and her mum would always turn up to group in distress. During the assessment meeting, A's mum had explained that A had difficulty regulating and expressing her emotions and she would become angry quickly at small inconveniences.
At the beginning of each session we would facilitate some sensory play and in these moments both A and her mother would start to connect, firstly to their own bodies, then to each other and then finally to the facilitators and the group. Each week the facilitators would make sure that A and her mum had enough time with the sensory play before they were asked to join the group and engage in non-sensory activities.
It wasn't until after the group work was finished and the post group counselling sessions that we realised how important the sensory play was for A's mum. She had arrived at our counselling office in distress due to circumstances that had happened on her way to the meeting. A's mum was finding it hard to manage her emotions and it wasn't until she was in the counselling rooms and the therapeutic specialist had offered A's mum some kinetic sand to play with while they chatted, that she started to take some deep breaths and was finally able to move on and talk about something other than the incident that had occurred on the way to the office. The relationship with A's mother and the group facilitators was such that the facilitator was able to comment on this observation and suggest some ideas for sensory activities that A's mum could use at home to help her manage her emotions when she started to feel overwhelmed.
The relationship between the mother and facilitator is as important in this work as the relationship between the mother and the child. The group offers mothers a relationship with a safe and emotionally contained adult who can hold their story and offer them validation and encouragement in their role as a parent.
It is a privilege to witness the shifts that mother-child dyads have undergone in subtle yet powerful ways that are offered in the group context and it is continuously surprising how seemingly simple activities can offer moments of connection and healing.
---
Resources:
Bunston, Wendy (2017) Helping Babies and Children Aged 0-6 Heal After Family Violence: a practical guide to infant-and child-led work, Jessica Kingsley Publishers
Bunston, Wendy. (2011) When two worlds collide: The practice and theory of infant-led work [online]. DVRCV Quarterly, No. 3, Spring/Summer 2011: 11-14. Availability: <https://search-informit-com-au.ezproxy.cqu.edu.au/documentSummary;dn=161071645760891;res=IELFSC> ISSN: 1838-7926.
Lieberman, Alicia F., Ghosh Ippen, Chandra, Van Horn, Patricia (2015) Don't Hit My Mummy, Zero to Three