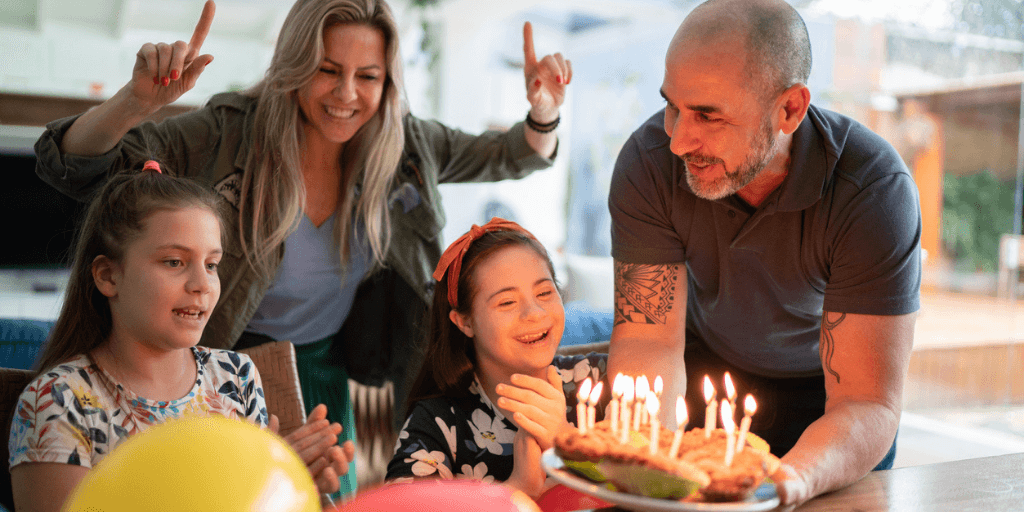 Birthdays, Parties, Anything
This 'Birthdays, Parties, Anything' blog article was written by Alison McLindin, Team Leader in the Therapeutic Services Victoria team, at the Australian Childhood Foundation.
Myra is an old lady now, but she feels that her formative years were spent being responsible for caring for her younger brother and sister, leaving her little time for herself. When Myra was a teenager her father, the sole family breadwinner, lost his job meaning that the family relied on minimal government support. Myra was used to not having much and was accepting of this, but she still recalls one particular Christmas where she had saved some money from ironing clothes and cleaning for a "well off" family. She felt delight in purchasing some little toys for her siblings in anticipation of their happiness. However, come Christmas Day when they excitedly opened their packages, she also remembers the searing criticism by her father of her wastefulness. The shame that she encountered that day has remained with her. She finds it hard to be positive when others are experiencing the joy of a celebration and can't stand surprises. 
Jimmy too, is in his twenties now, feels that birthday celebrations are tainted by feelings of sadness and anger. Unfortunately, his experience of being touched inappropriately by his uncle as an 8 year old, whilst everyone there was distracted during the singing of "Happy Birthday" to his sister, has left him feeling anxious and overwhelmed at family and social gatherings.  
A celebration is usually a time with the people we most care about coming together to experience shared happiness and joy.
Children and young people who have experienced trauma, and are separated from their family of origin whilst living with foster families or in residential homes, can be supported to experience these emotions too. Even amidst the sadness of their feelings of rejection. With some "child-centred" planning and forethought, a new emotional template of positive associations and memories can be created. 
By exploring and reflecting with a child or young person what they may need to feel emotionally safe prior to the event, during and afterwards, along with a few tried and true ideas, a planned for celebration can succeed. 
As trauma recovery and emotional safety is reliant upon the environment and the people in it connecting with the child to evoke calm, consistent, responsive and predictable support, it is worth considering the following ingredients to success: 
What sort of celebration will feel "just right" for the child?
Will there be a couple of people within the household or will there be extended family and/or friends from school, a club or their neighbourhood? 
What will it mean if the child's family of origin aren't present or don't make contact?   
Is there a particular carer or foster carer who can support the child to express their emotions safely, even though they may be very disappointed and feel rejected at such a vulnerable time? 
How can the child be supported to feel calm and in control to "stay within their window of tolerance" prior to their celebration, during and afterwards?
Pre celebration nerves are common for most people but hopes for a special event can become overwhelming for the child. Sensory trauma "triggers" and the surfacing of memories can also be distressing.   
Planning for some "big" feelings and potentially "sugar high behaviour" by providing a quiet withdrawal space, possibly with calming music, or sensory items may assist the child to feel more confident and contained. This will be preferable to trying to de-escalate peer or carer conflict; arguments and fights afterwards.  
Post celebration, a gentle resumption to routine and structure will also assist the child in feeling safe.      
Ask the child if they would prefer a surprise gift or something that they have helped to pick out. 
Would they like to create a menu of their favourite foods to enjoy on the day, incorporating both party foods and some healthier options. 
What sort of activities, games, fun and music can be anticipated and planned for? 
How will the day be remembered?   
Would the child feel comfortable having these memories recorded as photos? 
We can create opportunities that go a long way in changing a child or young person's internalised experience and recollection of times of celebration. I hope that the child whom you know or are working with will enjoy their own unique celebration and create new beautiful memories for them to share with their own family in the future.