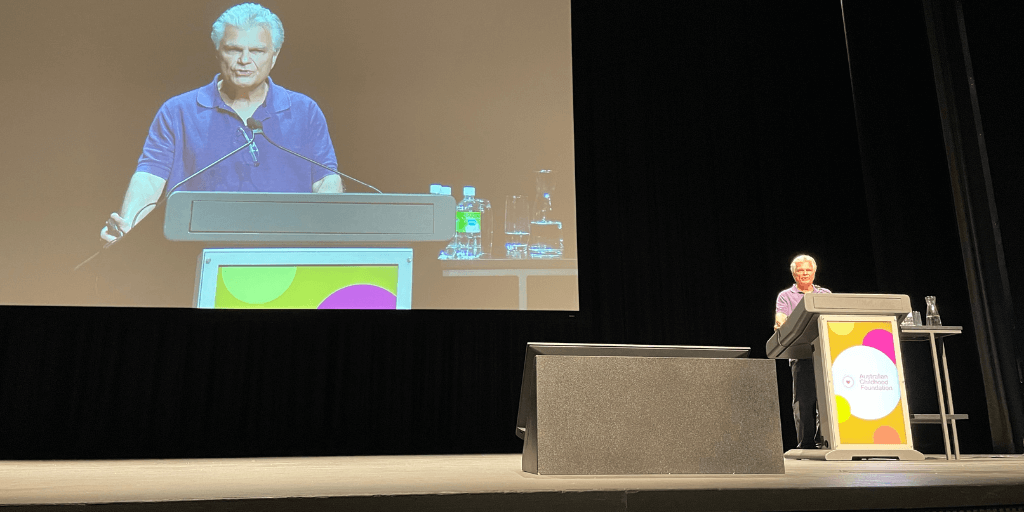 Playing with ideas – is neuroscience still the story we tell?
'Playing with ideas – is neuroscience still the story we tell?' blog article was written by Angela Weller, New Training and Resource Development Lead and Pauline Lodge, Senior Consultant, at Australian Childhood Foundation.
"Neuroscience is a metaphor just like all the other metaphors we use, people seem to be impressed by science, they think it's real. I am just trying to think a little deeper….I want you to think about it, play with the ideas." – Lou Cozolino 
The Fourth Biennial Australian Childhood Foundation International Childhood Trauma Conference was held on August 2022. The event brought together people from around the world to listen, learn and connect through conversations around trauma, children, culture and healing. The goal of the conference was also to help professionals stay up-to-date with new and evolving ideas that could affect their practice.   
For more than a decade, the theory of neuroscience has been the main narrative underpinning the way we think about 'responding to trauma'. This has provided us with a rigorous explanatory framework for how we understand trauma in children and has been the theory that has been at the forefront of our education and therapeutic programs. 
The conference prompted consideration of whether this defining story needs adaptation and how many other rich explanatory narratives can be interwoven with it, some of which included: 
First Nations leaders' stories and cultural wisdom
Speakers sharing their life stories, lived experiences and knowledge
Researchers and theorists sharing theories of neuroscience, attachment, nature-based work and systemic integration
Practitioners sharing stories of new modalities and their application to practice
Underpinning all of these ideas was the consistent reminder that relational care and safety is the most important experience of healing that children and young people can have.
For us at the Foundation, 'playing with ideas' is an exciting invitation posed by Lou Cozolino. Several speakers offered us new innovations to 'play' with.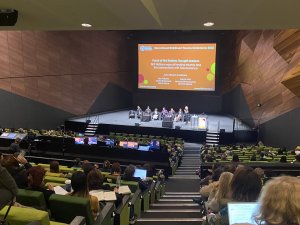 Ruth Lanius described the dimensions of consciousness, while Ed Tronick presented ideas around the neurosomatic ways we create meaning in our world. Cathy Malchiodi and Maggie Kline explored how the sensory systems support our meaning-making capacity. Lou Cozolino also described the executive functioning system of our brain and how it connects to lived experience as a relational, social, emotional, cognitive and cultural system.
These theories of brains in connection with one another continued to deepen our understanding of the theory of interpersonal neurobiology.
Other speakers, such as Billy Black and Bobby Hendry focused on the importance of narratives that privilege and respect stories of lived experience, with young people being the 'experts of experience'. Similarly, Cindy Blackstock, Glenda Kickett and Judy Atkinson shared stories of cultural wisdom and knowledge that reiterated the integration of neurobiology and cultural storytelling.
"The plot, characters and morals of the stories we hear influence our synaptic connections, they change our brains. Stories also live through us. We are born into stories, those of our families, nations, religions and cultures." – Judy Atkinson 
Judy Atkinson also asked the question, "If the stories we tell are trauma stories, how do we transform those stories into healing action?" One answer to this may be the importance of developing integrated, whole-of-community approaches to healing.
Relational proximity, safety and closeness to children continue to be the most powerful stories of healing that we witness, and it was exciting to see the unfolding research and evidence shared at the conference that deepens our understanding of this.
Paul Gilbert spoke about the essential role of compassionate relationships around children. This was supported by Maggie Kline, who said, "it is the heart that warms the hand that touches the child."
The lessons we took away from the conference this year were ultimately the importance of playing with what we think we know – seeking the interconnection of ideas we have traditionally valued, alongside the stories that we are learning every day in our work from the communities and voices most important to hear.
This process of learning could be the next chapter in the story of how we make a difference in the lives of children and young people.
Our Education and Safeguarding Services team provides training and customised learning solutions.
Find out more about our general training here. If your organisation would like to learn more about the customised learning options we provide and their suitability for your school or education facility, please contact us to find out more: support@childhood.org.au.
Stay tuned for more information on the 2024 International Childhood Trauma Conference.