Child abuse and suicide: a harmful correlation – Part 2

This blog entry was authored by Lauren Thomas,
Program Manager, Professional Community Engagement
In part one of this series, we looked at what current research shows us about the strong correlation between suicide, self-harm and victims of childhood abuse. Since suicide remains a taboo topic for so much of society, it is important that we as practitioners consider our role… not just because we have a duty of care to clients, but because we have unique opportunities to ask, and inform those we are working with about the very real presence of suicidal themes in this cohort.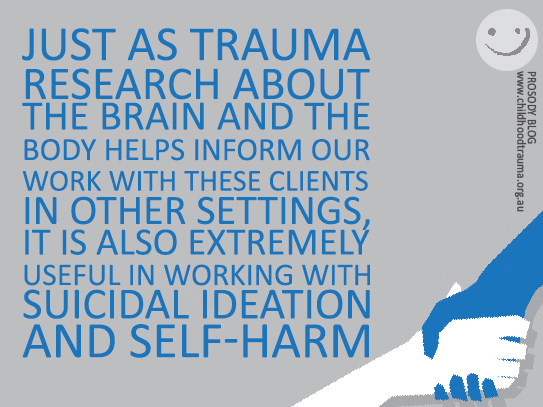 Trauma informed practice is a strong theme on this blog. And, just as trauma research about the brain and the body helps inform our work with these clients in other settings, it is extremely useful in working with suicidal ideation and self-harm, as well as when supporting those who have lost someone to suicide.
Below I have listed five simple recommendations which are not intended to be exhaustive. I assume you all have access to training on the topic, have useful assessment tools at your disposal, and have varying degrees of experience with this work. Some of these recommendations will not be new, but I hope they are intended to prompt discussion and support practice.
Seek information
Understand the very real correlation. Research like that in the last post helps us understand the likelihood of survivors of abuse battling suicidal ideation. Not asking or at least being mindful of the possibility could mean you miss important opportunities for support and therapeutic work.
3,027 Australians died by suicide in 2015. Suicide is the leading cause of death for men aged 15-44 years, eclipsing road accidents and cancer. And, although the research cited in the last post shows a stronger correlation between female victims of childhood abuse and suicide, it is important to also note that seventy-five percent of all suicides in this country are men. Eight people die by suicide every day.
Be willing to ask
We can start the conversations – with parents, carers, young people and children. These conversations are rarely easy, and the awkward nature of starting them sometimes prevents those around a client from doing so. There are many assessment tools and methodologies, but the most important tip I can think of is to find a way that feels comfortable to you. Use words that aren't rigid, that are natural. Try not to ask as though it is something you are required to do to tick a box on a piece of paper in front of you.
Some examples might be:
"Other people who have had similar problems sometimes lose hope. Have you?"
"With this much stress/hurt/anger/frustration, have you thought about hurting yourself?"
"Have you ever thought about killing yourself?"
Look for non-verbal cues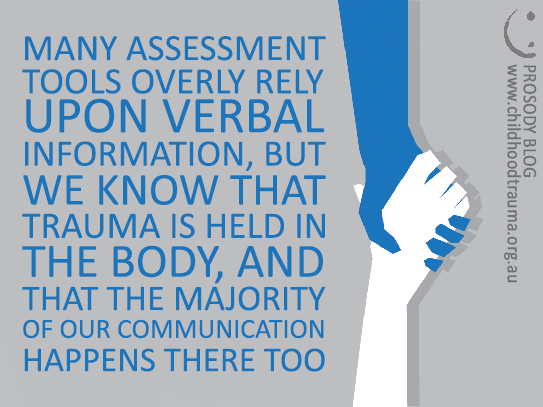 Many assessment tools overly rely upon verbal information, but we know that trauma is held in the body, and that the majority of our communication happens there too. Some examples of non-verbal cues may include:
Downcast, unusually averted eyes Flattened affect
Less attention to appearance
Psychomotor retardation of speech or movement
A significant change in presentation, including a sudden elevation in mood and affect sometimes evident when normally downcast clients have made a decision to choose suicide and they experience relief because of this
Look for opportunities to recognise their resources
Several years ago, Babette Rothschild shared powerfully in her national speaking tour of Australia around recognising the resources a client has that have helped them to survive and overcome all that they already have. Helping a client to understand their own resources can empower them with tools they can carry forward into present challenges.
Maya Angelou, who was non-verbal for many years as a child following an experience of assault, had reading and writing as a resource which she credits with enabling her survival. Rather than just pushing her to talk, she had a teacher who instead supplied her with literature to fuel her learning and discover. Looking beyond the immediate, more obvious supports to other resources can be extremely powerful.
My own studies in Sensorimotor Psychotherapy have also increased my understanding of the power of bodily resources for clients too. Helping them to know how to use their body as a resource to assist in self-regulation, and to use the therapist relationship to assist in co-regulation are extremely powerful tools for any practitioners toolbox. The Foundation offers the opportunity to study this course, and I highly recommend it if you haven't already – the link is above.
Look for ways to increase their safety
When you complete your safety plan with the client, consider what could be done to increase their sense of safety. As well as listing relational resources, consider environmental resources, sensory inputs and personal activities they can engage in to help stay in their own window of tolerance.
Many years ago I worked with a young person presenting with suicidal ideation and chronic self-harm. One of the strategies we tried that seemed to assist her was sensory… and remarkably simple. She carried a small tube of hand cream with her to school. When she began do feel the familiar feelings arising, after which she would ordinarily either dissociate or proceed to harm, she would draw the tube out and rub the hand cream onto her hands, focussing mindfully on the sensation of the massage. This strategy helped her stay in the present and supported her to manage her arousal until she could access her supports.
There is a growing body of evidence to support mindfulness as a useful strategy in self-harm and suicidal ideation. Several years ago, the SBS aired 'The Silent Epidemic' on the topic of self-injury, its rising prevalence in our schools and mindfulness based intervention success. I recommend it for an interesting introduction – you can find out more here.
I opened this series with a reference to my own childhood memory of Kurt Cobain's suicide. Music has always been a powerful communicator to young people and it continues to be today. As part of 'Listen Up Australia', a nationwide songwriters festival, Suicide Prevention Australia has endorsed the winning song titled 'Owls' written by the son of a member of our staff and performed by their band Tempus Sun. You may be interested to hear it, read the lyrics or even use it as a prompt for conversation in your own work with young people.
If you have other tips, questions or information you'd like to share, I'd love for you to share them below.
If you or someone you know is in need of support, contact Lifeline on 13 11 14. A detailed list of support services can be found here.