What comes after trauma-informed practice?

This blog article was authored by Dr Joe Tucci,
CEO at the Australian Childhood Foundation
Abuse and violence rock children to their very core. And as a result, children are overwhelmed with the internal reactions that race through them. They do anything to survive, not because they want to but because they need to. They frequently shut down their feelings. They push away memories of pain. They stop relying on relationships around them to protect them. They stop trusting and believing in others. They become self protective. They spend a lot of their energy scanning their environment for danger.
As a result, abused children experience difficulties in a number of domains, such as regulation, relationships, behaviour, memory, learning.
For the past fifteen of our thirty years, the Australian Childhood Foundation has been working with the richness of ideas that the field of neuroscience has offered to those of us taking care of children, young people and adults who have suffered trauma resulting from violation. We have tried to translate the work of Siegel, Schore, Tronick, Porges, Perry, Ogden, Atkinson, Van Der Kolk, Hughes and others so that it is relevant for practitioners in education, child protection, out of home care, family support, youth justice and mental health.
As CEO, I have held the goal to collaborate with others to hold compassion for the pain that children and young people carry with them as a result of the abuse and violence they have been forced to endure. Our whole field has been on an expedition into new territories of understanding and has worked on the interpretation of the consequences of constant threat being embedded deeply into the brains and bodies of children and young people.
As we have learnt more, we have changed our practices. And in turn, we have been changed.
Recently, however, I have felt the need to re-engage with some important beliefs that may not always be so clearly articulated.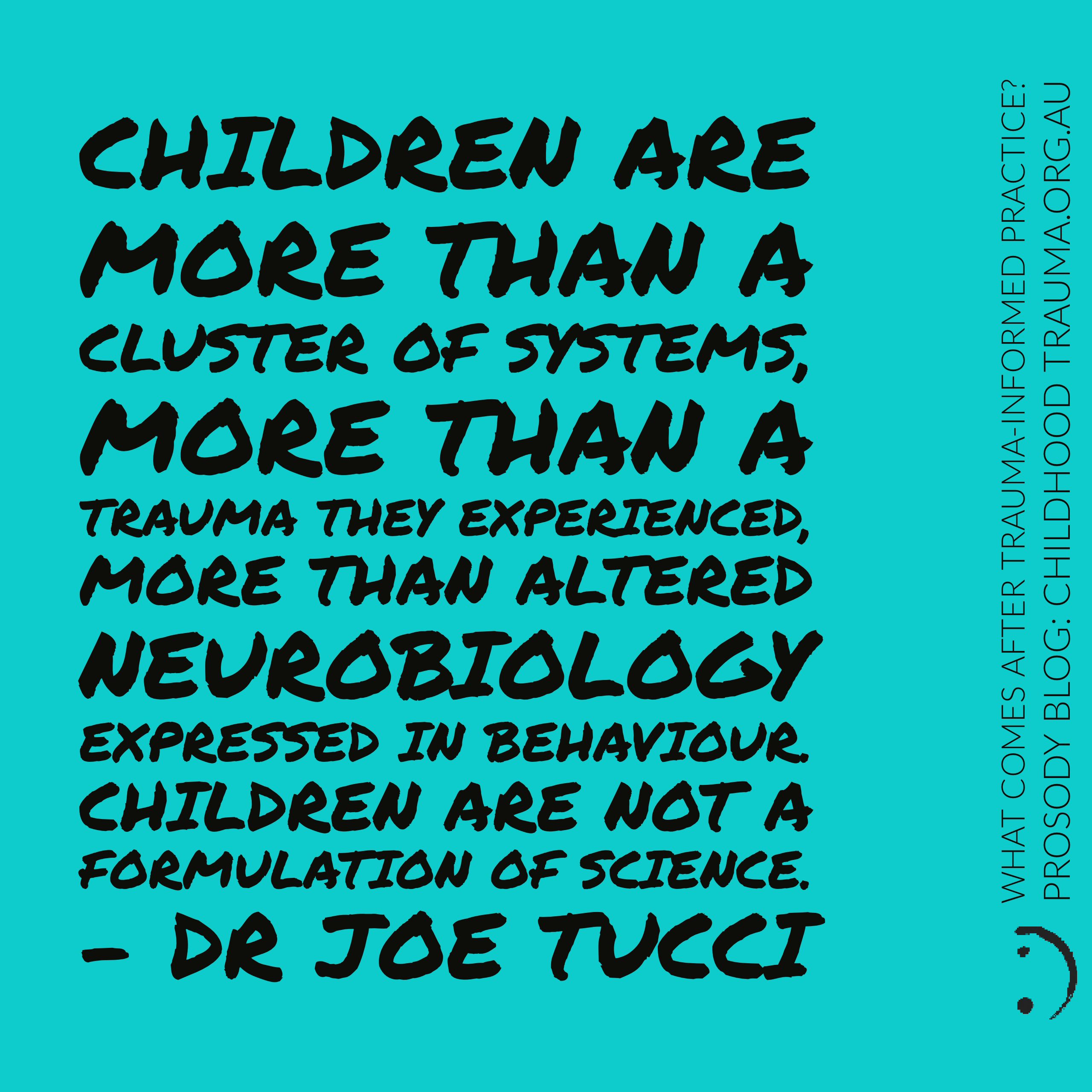 Children are more than a cluster of symptoms. Children are more than the trauma they have experienced. They are more than the way their altered neurobiology comes to be expressed through their behaviour and reactions. They are not a formulation of science.
Of course, we all know that. At least I think we do. I feel like I need to say them for myself – perhaps as a reminder of the hopes that I hold onto for the ongoing evolution of trauma informed practice.
In my view, we are facing a crossroad where the vibrancy offered by neurobiology has started to wear off. And there are forces pushing us to find that next new thing – the next new hope that will create change predictably and quickly. The pressure is palpable driven in part by influences such as government reform agendas, the preference of funding bodies, an impetus for efficiency and the need to respond to community concern about the way we have mistreated children in the past.
It is as if we have an in-built impatience with the significance of the power of attuned, sensitive and secure relationships in healing the hurt that traumatised children carry with them. It is likely the only experience that has ever done so.
And yet, in this context of impatience, the future may push us towards the pragmatism of behavioural models that we know have failed traumatised children in the past. It also may pull us towards a fragmentation of approaches, the emphasising of pathology and the failure to appreciate the strengths inherent in children's culture and the collective power of their community. Fragmentation itself is a product of trauma (Siegel).
The way forward is to reflect and conceptualise clearer models of integration. We need models that resource practitioners towards more analysis and less description. We need models that create principles that orient us to shared and mutual ways of working. And we need models that centralise approaches that not only address the current needs of children but also understand and meet the echoes of needs that have remained unmet in their past because of the trauma they have experienced.
This future is a move beyond being trauma informed to being trauma-integrated and trauma transformative.
According to the Substance Abuse and Mental Health Services Administration, a definition of a trauma-informed approach to service delivery is
A program, organisation or system that is trauma-informed realises the widespread impact of trauma and understands potential paths for recovery; recognises the signs and symptoms of trauma in clients, families, staff and others involved with the system and responds by fully integrating knowledge about trauma into policies, procedures and practices and seeks to actively resist retraumatisation (SAMHSA, 2014, p. 9).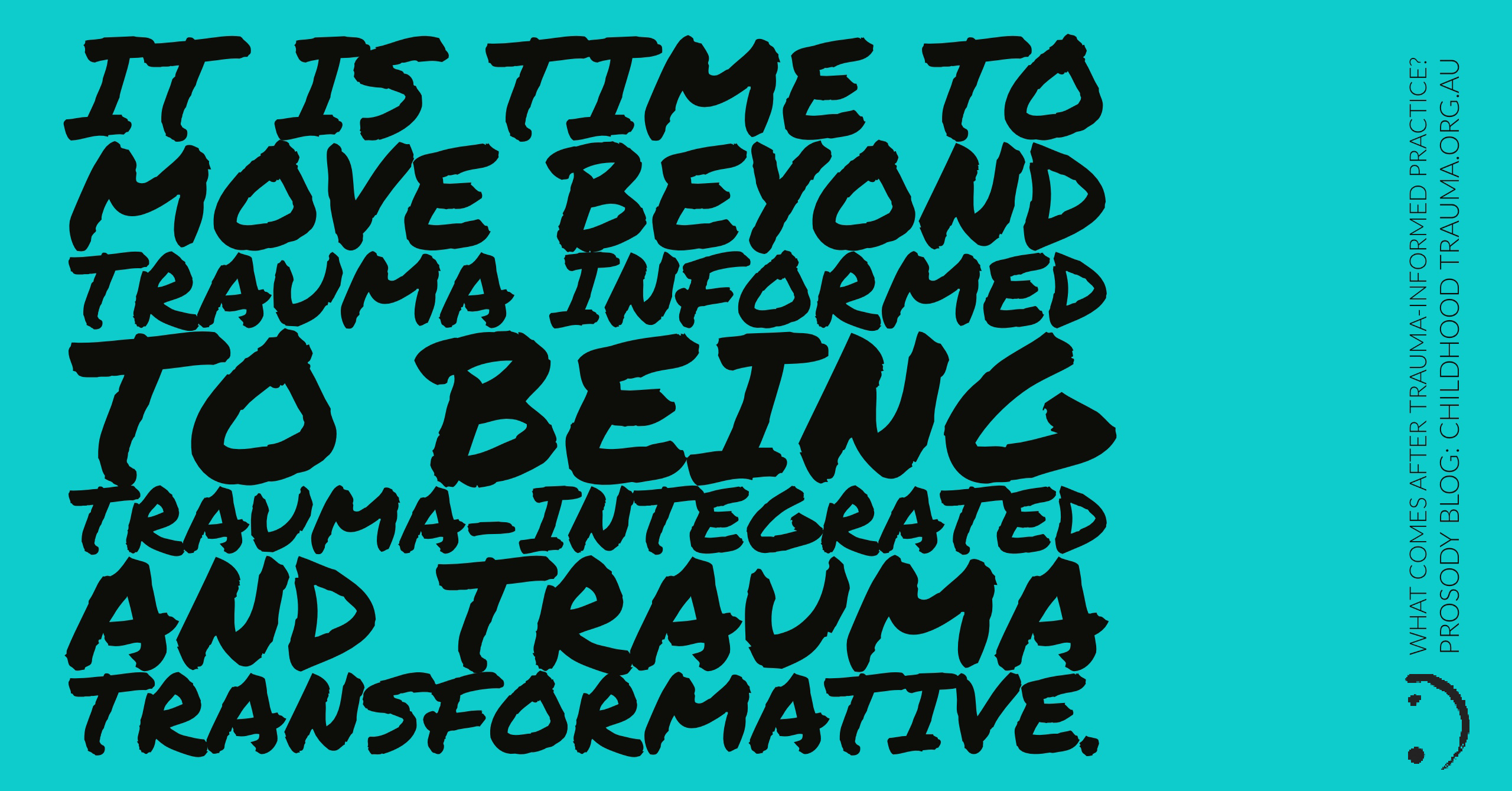 In my view, we will need to move beyond this current conceptualisation to a way of working that is trauma integrated. In this frame, services will have used the knowledge base about trauma and will have fused these principles with their own mission and vision. A trauma integrated service has an articulated approach to practice. It combines its own value base with its commitment to achieving change. Trauma is not separate to the operations of the service, it is at the centre. The knowledge base from the neuroscience of child development and relationships offer resources to practitioners that build on other important principles which include being culturally strong, risk responsive, rights oriented and strengths based. Trauma integrated services focus away from individual trauma symptoms. They interact with the individual as a whole person and as part of a network of relationships that are strengthened as the basis for change.
In addition to being trauma integrated, trauma transformative services embed two significant additional layers into their orientation:
They have thought of and committed themselves to a theory of change that realistically supports how children, young people and families affected by violence come to experience their lives differently. The service and its staff believe that the effects of trauma can be changed. They represent hope to service users and the community.
They oppose broader community narratives that serve to trap those affected by the effects of trauma in identities that are shaming. Trauma transformative

services connect the community to the pain of violence and resource understanding and compassion.
As they are written, these conceptual maps will release new resources for vulnerable children, young people and their families. The decade of the brain deepened our understanding of trauma, in the last decade we have further involved our understanding of the nervous system, the body and the connection between them all. This knowledge has been a powerful driver. But, I think it may now be time for us to re-engage with the hearts of those in pain as well.