How a Sensory Bear Helped a Little Girl to Find Her Voice
This article was authored by Mary-Ann Delaney, Senior Counsellor,
Child Trauma Service Victoria, at the Australian Childhood Foundation.
How a Sensory Bear Helped a Little Girl to Find Her Voice
For many children who experience abuse or violence early in their lives, they are often left with no words to describe their experience of hurt and loss, few ways to regulate their distress, and no way to reach for help from the significant adults in their world. Their little bodies react to ensure survival and they remain prepared to stay safe from threat in whatever way they can. Their physiological, emotional, cognitive, sense of self and relational experiences remain hijacked by their past trauma, and there is often little flexibility in their stress response system. The overwhelming nature of these children's trauma also severely undermines their capacity to play.
This was 7 year old Matilda's world when she was referred to the Australian Childhood Foundation. Matilda had experienced a significant amount of change and disruption in her early years, and had also been exposed to sexual abuse. Despite their love and best efforts, her parents had not been able to be consistently emotionally available for their daughter. These experiences had coincided with a developmental stage in Matilda's life during which she had limited capacity to autonomously regulate her emotions and physiology. As a result, Matilda had no words to describe her distress and had no voice to ask for help. Instead, she experienced nightmares and anxiety, internalised her worries, developed a fragile sense of self, and withdrew from relationships.
Children like Matilda respond well to playful sensorimotor ideas that have a focus on the present moment. In a safe environment and within the context of an attuned and responsive relationship, these children can be supported to attend to their thoughts, feelings, body sensations, and experience of connection. With titrated and repeated exposure, along with relational support, children start to build enhanced senses of safety, regulation, self and connection in a present that is not hijacked by their past trauma; capacities that can then be generalised to children's daily lives with support from the important people in their world.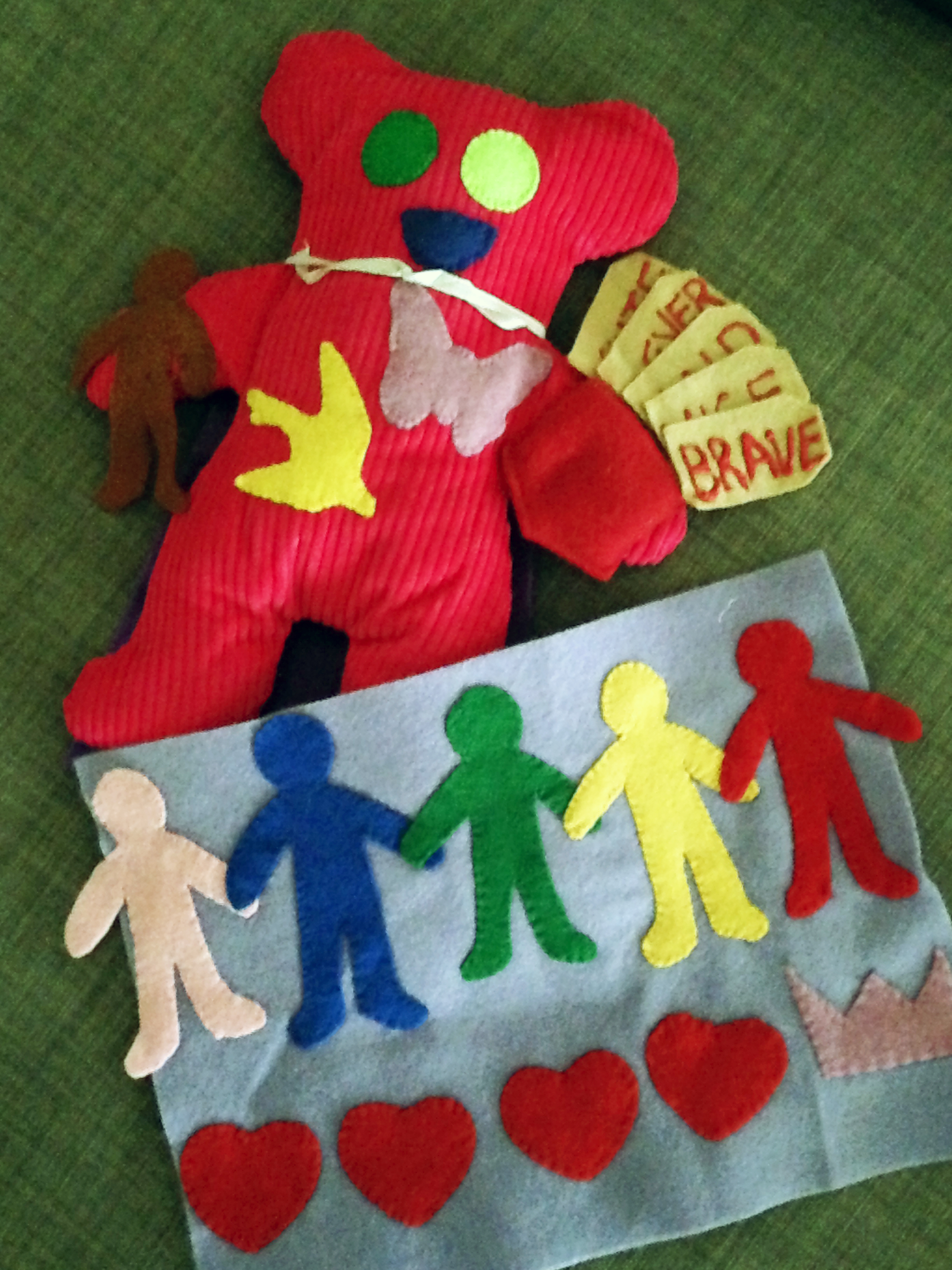 The Sensory Bears that Matilda used in therapy are designed to foster play, build physiological and emotional awareness, and strengthen relationships and identity. They are weighted in a way that allows the Bear to conform to whoever it rests on, thus offering a sense of containment and security. The blank canvas of each Sensory Bear also offers children the opportunity to invent its life and character. The choices that children make about who their Sensory Bear becomes often tells us a lot about their own needs, how they see themselves and others in their world, and how they are integrating the self, relational and regulatory resources they are discovering in therapy.
For Matilda, therapy helped her to see and experience her parents and her world as safe, attuned and responsive to her needs, and in doing so she was able to remember that she is loved and never alone. Therapy also helped Matilda to learn about the different ways her body can feel depending on what emotions she is experiencing, as well as things she could do to manage these. Matilda found that while she still had butterflies in her tummy from time to time, doing some deep breathing and talking to her Mum and Dad really helped with these. Matilda learned that she was clever, cute, kind, nice and brave; qualities that she would now always carry with her and could now resource her. Most important of all, Matilda discovered that she had a voice and started finding ways to use it to tell her story.