Child Safe Standards – Victoria
The Victorian Government is introducing compulsory Child Safe Standards for organisations that work with children. The Standards will support organisations to protect children from abuse and exploitation by their staff and volunteers.
The new Standards are being applied to organisations in two phases:
Phase I: Organisations that provide services for children that are government funded and / or regulated (from 1 January 2016)
Phase II: Other organisations that provide services for children (from 1 January 2017).
In addition schools are required by Ministerial Order under the Education and Training Reform Act 2006 to take action to meet each of the child safe standards by August 2016. More information about the requirements can be found here.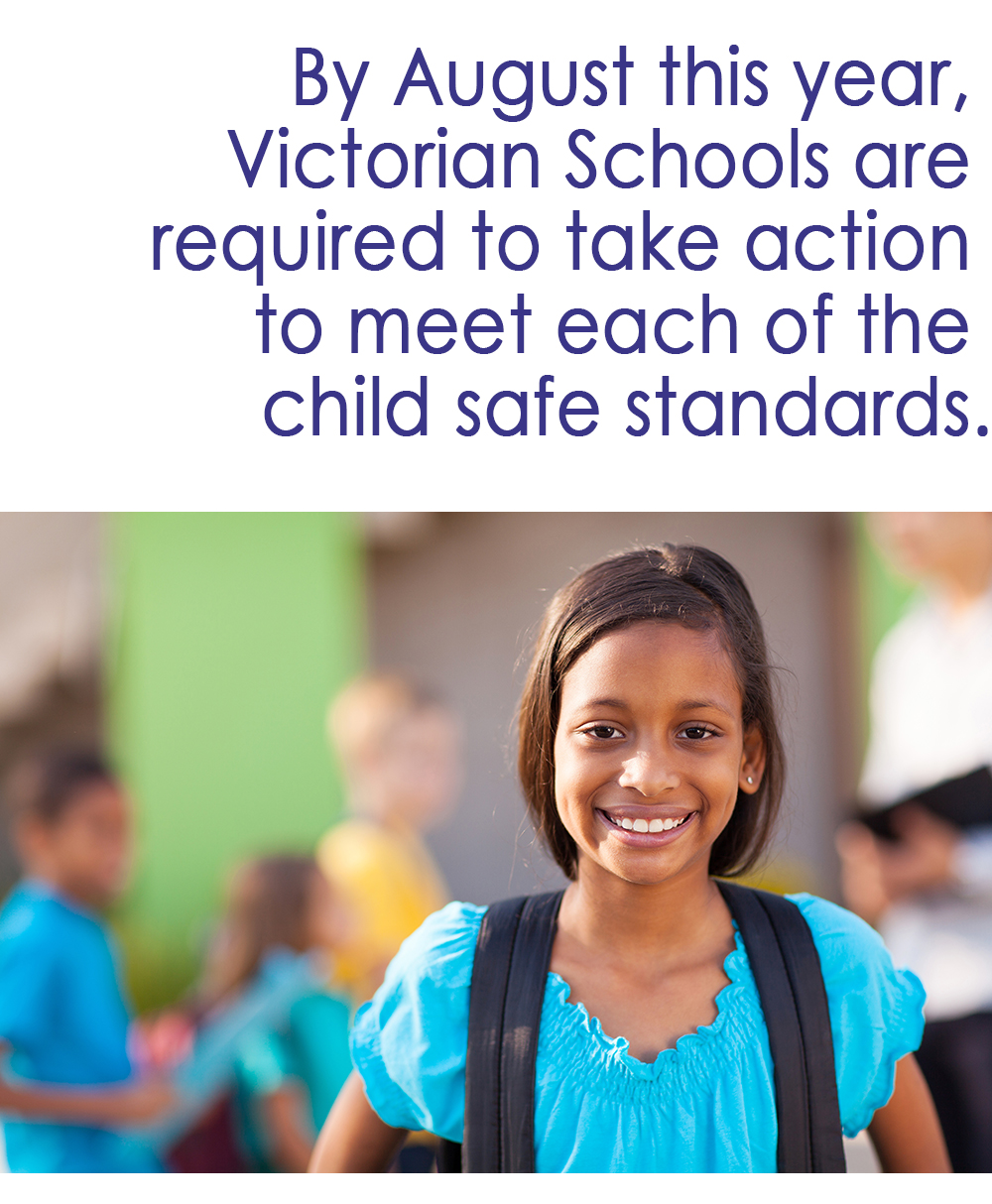 The Australian Childhood Foundation welcomes the Government's commitment to implementing this key recommendation arising from the Betrayal of Trust Inquiry. The Foundation's work through its Safeguarding Children Accreditation Program over the past seven years is testament to our belief that child abuse within organisations can be prevented using an effective framework that embeds a commitment to children into the everyday practices, policies and culture of organisations.
The Government's seven (7) standards are comparable to other standards like the Australian Children's Commissioners and Guardians eleven (11) Principles for Child Safety in Organisations and the Australian Childhood Foundation's seven (7) Safeguarding Children Standards.
The table below shows how the Victorian government standards align with the ACF standards.
Standard 1: Strategies to embed an organisational culture of child safety, including through effective leadership arrangements
Standard 6: Strategies to identify and reduce or remove risks of child abuse
7. Our organisation is committed to maintaining and improving its policies, procedures and practices to safeguard children and young people from abuse and neglect (including establishing specific responsibility for leading Safeguarding activities and regular review of Safeguarding activities).
Standard 2: A child safe policy or statement of commitment to child safety
1. Through its 'safeguarding children and young people' statement our organisation documents its clear commitment to safeguarding children and young people from abuse and neglect.
Standard 3: A code of conduct that establishes clear expectations for appropriate behaviour with children
2. Our organisation ensures that each person involved in our delivery of services to children and young people understands their role, and the behaviour we expect in safeguarding children and young people from abuse and neglect.
Standard 4: Screening, supervision, training and other human resources practices that reduce the risk of child abuse by new and existing personnel
3. Our organisation has appropriate measures in place to minimise the likelihood that we will recruit a person who is unsuitable to work with children and young people.

4. Our organisation's induction, education and training programs are a vital part of our commitment to safeguarding children and young people from abuse and neglect.

Standard 5: Processes for responding to and reporting suspected child abuse
6. Our organisation has measures in place to ensure that our 'involved' personnel understand their responsibility to report possible abuse or neglect of children or young people, and understand our reporting procedures.
Standard 7: Strategies to promote the participation and empowerment of children.
5. In developing a safe, inclusive and supportive environment our organisation involves, and communicates with, children and young people, and their parents. We encourage parental involvement and behaviour that helps to protect children and young people.
Monitoring Compliance with Standards
Organisations in Phase 1 will be initially monitored for compliance with the child safe standards through existing arrangements. The intention is to not duplicate or replace existing regulatory or reporting mechanisms.
The Foundation has a long standing history of working with national organisations across a range of sectors to enable them to build and implement nationally relevant and consistent frameworks that are locally compliant and implemented in each jurisdiction. Ultimately, organisations that voluntarily seek accreditation through the Safeguarding Children Program, will achieve best practice in protecting children. The Accreditation Stamp provides a highly visible measure to the organisation's constituency of its compliance and achievements for children. Beyond achieving compliance with the Standards, they will build, through the accreditation process, a robust and sustainable organisational culture that places the safety and well-being at the forefront of your organisation's priorities.
For more information on the Safeguarding Children Program, please email safeguardingchildren@childhood.org.au.