Reflections and Images from the 'Woodstock'* of Trauma Informed Child Care and Treatments

This article was authored by Dr George Halasz
child and adolescent psychiatrist and honorary senior lecturer at Monash University, and private psychiatry practitioner. You can connect with George via his LinkedIn Profile featured at the bottom of this post, or through his website.
Reflections and Images from the 'Woodstock'* of Trauma Informed Child Care and Treatments (*Dr Richard England's observation)
The challenge Joe Tucci, CEO of Australian Childhood Foundation, faced was to sustain 5-days of excitement for around 2,500 participants, to capture and engage this diverse group of professionals with enriching experiences and endless enthusiasm. His solution was simple. Invite more than a dozen gifted and passionate 'mega-stars', leaders in the field of childhood trauma. Let then do the magic. I'll try to offer a taste – hopefully not a tease – in words and images that remain for me scintillating highlights.

I joined the eager participants, enrolled for this 5-day festival of ideas, research, scholarship with the promise of finding immediate relevance and links to my clinical practice and a deeper appreciation how to apply such knowledge in the wider social and cultural settings I work in.
The Conference delivered, with added value.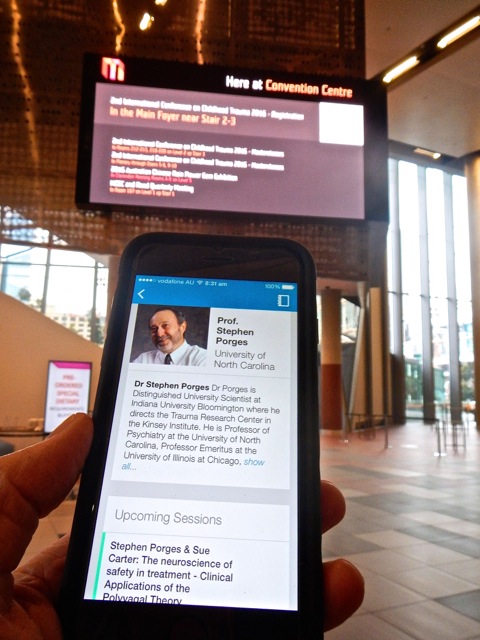 What a daily smorgasbord of ideas, visions, dreamscapes to choose from: where ever one turned, creative sparks filled the massive auditorium whether from engaging conversations, workshops, plenary sessions or lectures.
The social media feed managed moment-by-moment to update activity witnessed by participants – so even if you missed out on the gems from one venue, at least you knew what you were missing out on, a valuable consolation for the intellectually greedy.
The marathon wizzard-leaders clocked up an impressive score of nearly 10,000 points (Andrea Witt) during the 5 days. Texts and photos. Don't ask me how they were scored.
But just in case it sounds a lot, by contrast I managed less than 100 points. While humbled, nevertheless I felt pleased with my own efforts as my posts did attract some 'notifications' and even 'followers'.
Which reminds me, on my arrival the smooth paperless registration, as computer generated code-bars primed, ready to print name tags so efficiently, yet, once they did glitch, once, as I was being given the name-tag for 'Barbara'. Embarrased smiles all around.
Aside from that one electronic misfire, the smooth state-of-the-art social media interface linked and tracked participants with parallel Keynotes, Masterclasses, Plenary and delicious Sessions with equally yummy lunches, snacks and social functions, all orchestrated with precision, never missing a beat, even when one speaker threw out the schedule by going over his time limit. Ouch!

Now, turning to the intellectual engine driving the conference – the daily program included a list drawn from 'Whose Who' in the field of childhood develoment; Allan Schore, affectionately know as the American John Bowlby for his pioneering work on attachment regulation theory, 'relational trauma' and 'right-brain to right-brain' as the pathway of communication between early infants and mothers.
Pat Ogden a pioneer in sensory motor psychotherapy;
Dan Siegal – 'mind-sight' and 'neurones that fire together wire together';
Vittorio Gallese discoverer or 'mirror neurones'; see his book with 'the birth of intersubjectivity' co-written with Massimo Ammantini.
Stephen Porges whose 'Polyvagal Theory has revolutionised our understanding of what it means to be 'safe';
Michael Yellow Bird and Judy Atkinson's tribal wisdom derived from traditional indigenous mindfulness practices in American Indian and Australian Aboriginal cultures;
Russell Meares integration of attachment, trauma, and psychotherapy as well as launching his new book;
Ed Tronick whose 'Still Face Paradigm' transformed our understanding of the self-regulatory processes of infants and young children…the list goes on, but I could not make it to all the speakers.
If ever one needed 'evidence' that the field of child trauma was undergoing the most profound transformation – a paradigm change – here it was. This extraordinary conference, as it brought together leaders in their fields, left no one in any doubt that now our knowledge is firmly based on how and why infants – and even pre-birth mechanisms – and children are impacted by abuse, neglect and the many types of relational trauma. These committed clinicians and researchers provided the very foundations of the evidence.
They are shaping a new emergent reality – a new paradigm – that we are coming to know as trauma informed therapy. This paradigm has implications for us all, clinicians, researchers, policy makers and service planners whose vision needs to extend into the coming decades.
As we witnessed throughout the Conference, the new paradigm was ushered in by painstaking research these speakers detailed, first hand. These gifted innovators, with their novel ideas, which over the last two decades have been widely accepted to be increasingly incorporated into mainstream practice and policy provided us with intricate and intimate insights on two levels.
First, their journeys through the heart-break that accompanies painstaking scholarship and research. They detailed, how once validated, gradually their ideas became accepted by child therapists, clinicians and the scientific principles were translated into policy for chid welfare.
Second, they offered rare insights into their personal and professional challenges that led to fundamental discoveries from the various fields of neuroscience. These discoveries are invigorating the processes of change and therapy interventions, underscoring the rights of children for safety and security as a fundamental entitlement.
One of the most touching moments, and there were many such moments, occurred during the intimate conversation as Joe Tucci asked Vittorio Gallese how he felt when he realised that they had discovered the 'mirror neurones'. Vittorio responded 'We discovered it by chance, but it was not chance that we discovered it.'
The final Plenary at the end of the Conference saw a standing ovation from the participants – and a mirrored standing ovation from the expert panelists – it doesn't get any better than this…except, of course, if we decide to attend the 2018 Conference.

Post Conference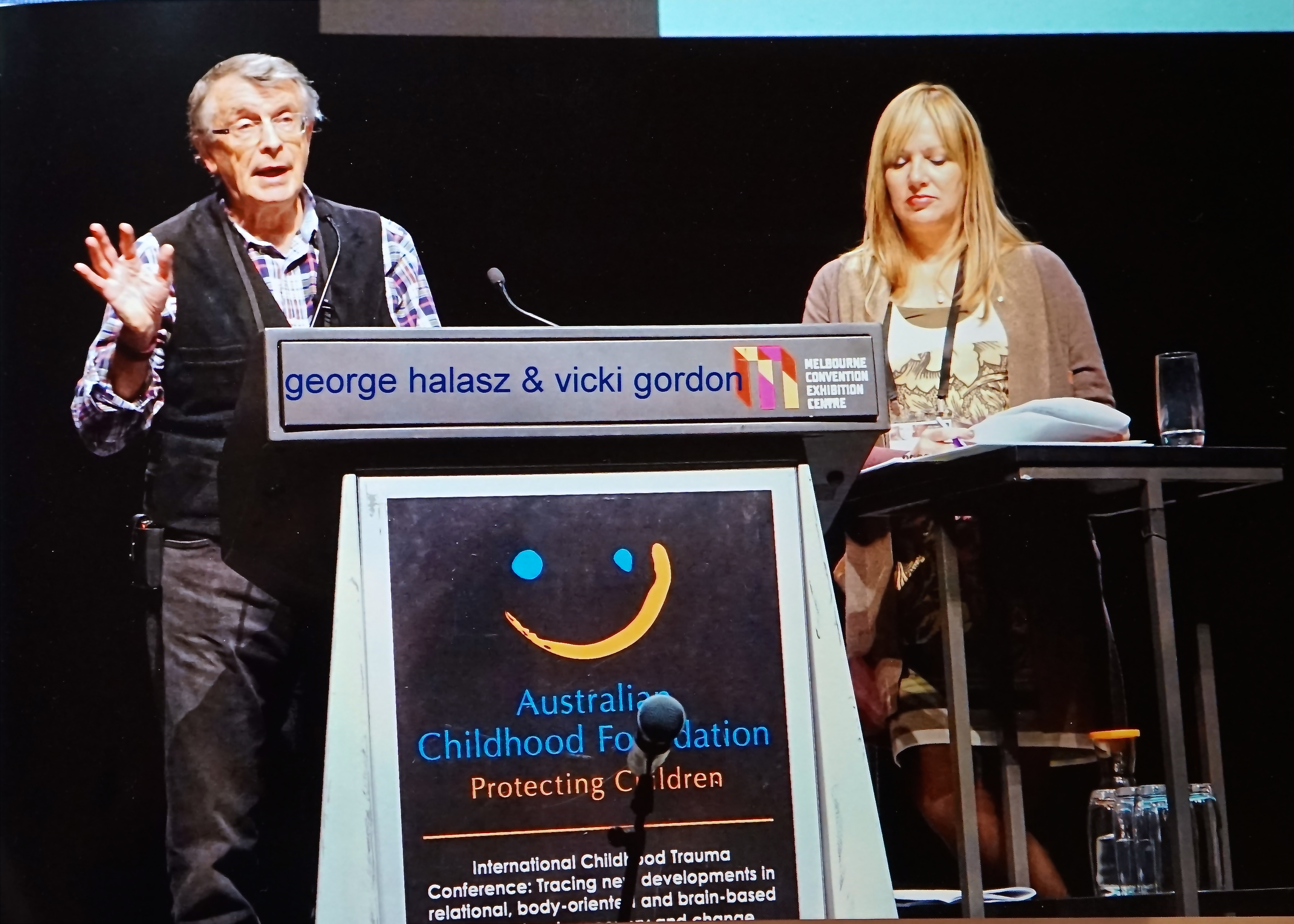 Our challenges are many. We were inspired. Now we try to make use of our new insights, inspiration and understanding offered by these generous and gifted speakers; to formulate new ways to see our traumatised child patients; to see them as well as their families, brothers and sisters at risk for vicarious trauma; to re-think common events impacting on children like school-based bullying as relational trauma (see Evelyn Field's presentation for explanation); to appreciate more profoundly the generational impact of direct and transmitted trauma within our culture, no less than in our clinical encounters; to dare to think of the 'everywhereness' of vicarious trauma (the theme of our own presentation) as trauma informed therapists.
Next Conference : 29 July – 3 August 2018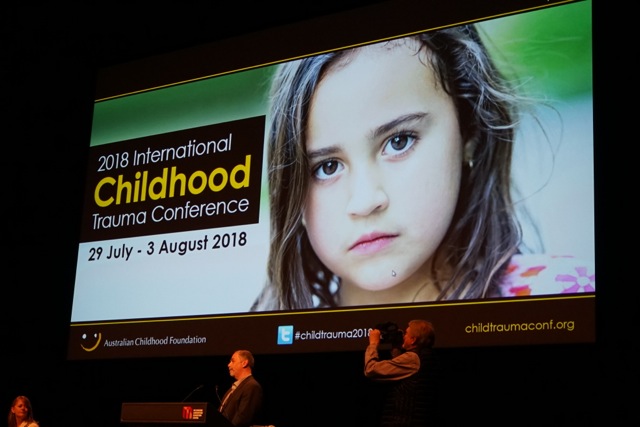 Post Script
On a personal note I would like to share a couple of my own favourite moments captured before and during the Conference with Allan and Judy Schore – whose dear friendship and mentorship have profoundly reshaped my views of relational trauma and its repair over the last decade and a half.