Increasing child participation in community contexts
This blog entry was authored by Lauren Thomas, Program Manager,
Professional Community Engagement at the Australian Childhood Foundation
In 2016, the Australian Childhood Foundation supported a Children's rights art competition and featured several of the young artists work on Prosody. In my role, coordinating this, I was struck by how many of the students involved were not aware of the UNCRC before commencing the project. In addition, I've come across many adults, educators and practitioners who have limited understanding of the charter of rights for children – nor its implications for practice.
This lack of knowledge or intentional application of children's rights in the contexts in which they learn, grow, develop and recover from trauma can create significant issues to rights accessibility. Children who have received opportunities to participate are more likely to be sensitive to the perspectives of others and be concerned about their rights (Covell & Howe, 2000). Conversely, children who have not felt their voice has been heard, or who have had little sense of agency in the decisions made about their care and safety are left more vulnerable.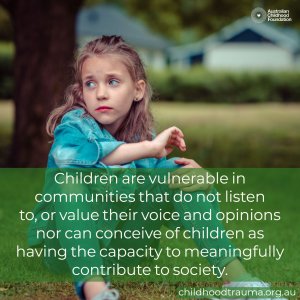 Children are vulnerable in communities that do not listen to them, that do not value their voice or opinions, that do not conceive of children as having the capacity to meaningfully contribute to society. Vulnerable, because these attitudes or cultural approaches mean that they can be overlooked, minimised or left unheard or unbelieved.
In an article looking at Children's citizenship in Education, Smith, Bjerke and Taylor (2009) commented
"One of the problems of promoting citizenship in educational contexts is, that in many educational settings, children are not constructed as competent, responsible citizens who are able to contribute to decisions (Smith, 2007a). Instead, they are likely to be seen as 'citizens in the making' who are being shaped for their future roles in society, rather than citizens contributing to society today (Cockburn, 1998; Lister, 2007)."
This construct of children as 'not-yet' rather than as 'already' is problematic, and it is my belief that it has roots in Western cultural approaches which have historically treated children as something to be 'seen and not heard'. Citizens whose opinions and ideas will always be overridden by adults. This cultural premise creates vulnerability and a lack of agency for children.
Not engaging children as fully-fledged humans in these contexts creates a significant slew of additional issues for them now, which has ripple effects into all of society. Leaving them out of the decision making processes, or excluded from participation by barriers created by non-child centred systems, limits their development altogether.
We see this in therapeutic settings, particularly in systems working around vulnerable children. While participation may be a clearly documented element of children's rights (articles 4, 12, 13, 14, 15, 16 and 17) too often children are not kept at the forefront, let alone involved, in the decisions that impact them. This, in turn, contributes to the felt sense of lack of agency many young people in care describe, which undermines their ability to successfully navigate the world and their relationships within it.
In contrast,
"Being treated like citizens casts them 'as full human beings, invested with agency, integrity and decision making capacity' (Stasiulis, 2002, p. 509) and reduces their previous invisibility, voicelessness and passivity (Covell & Howe, 2001)."
Refocussing on children's rights, as described in the UNCRC, provides a framework to counter the cultural beliefs and suppositions that still undermine child participation.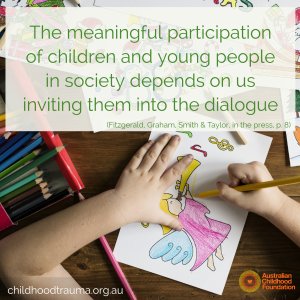 It is my belief that our work with children best supports participation when we approach the relationship (regardless of the power imbalance created by roles) as a reciprocal partnership where we can together jointly construct understanding and knowledge. And when we see them as fully fledged citizens with rights to be recognised and supported.
The meaningful participation of children and young people in society depends on us inviting them into the dialogue (Fitzgerald, Graham, Smith & Taylor, in the press, p. 8). It can start by analysing the cultural beliefs that effectively minimise children's contribution, and work to remove the barriers set up by these beliefs that block children's participation.
Agency arises out of relationships. In our relationships with children and young people – whichever professional context you find yourself – we all have opportunities to amplify their voices, to honour their ideas and to facilitate their contributions. In doing so, we contribute to a community in which children are less vulnerable.