Changes to NSW Child Protection Legislation

This article was authored by Rhiannon Wright, Senior Advisor in
the Safeguarding Children Program of the Australian Childhood Foundation.
On 2 November 2015, The NSW Government introduced reforms to strengthen the protection of children, particularly in situations where they are not in the care of their parents or families. These changes have been made under the Child Protection Legislation Amendment Act 2015 and affect all employers and organisations providing child-related services with roles that require a Working With Children Check (WWCC) clearance. A summary of the changes, as provided by the NSW Office of the Children's Guardian can be found below.
1. Child-Related Employers
Employers must register and verify child-related workers online
Employers must now verify a person's WWCC application or clearance online before engaging that person to work in child-related employment. Sighting the WWCC number is not sufficient verification. Verification must be done through the Working With Children Check Employer Register.
Expiring WWCC clearances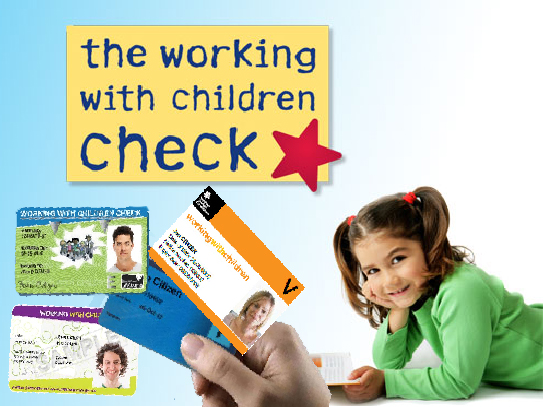 A worker with an existing WWC clearance that is due to expire must reapply for a new WWCC and provide the new number to their employer. The employer must verify the new WWCC application or clearance online within five working days of the expiry date of the old WWC clearance number.
2. Designated Agencies
People who reside on the property of an authorised carer must hold a WWCC clearance
All people residing for longer than three weeks on the property of an authorised carer or on a property where home-based education and care service of family day care service is provided must hold a WWC clearance. This includes people sleeping on a regular or frequent basis anywhere on the property, including a building, caravan, structure or vehicle for example.
Key positions in governing bodies to have WWCC
A governing body must ensure that a person appointed to a key position, for example a chief executive officer, holds a clearance. A record must be kept for seven years detailing how the governing body determined that the person held a clearance.
Provision of information for selection purposes
Any person can provide information to a Principal Officer or the Secretary of Family and Community Services (FACS) about another person reasonably believed to be a prospective adoptive parent, authorised carer/carer applicant, guardian/prospective guardian. Information can also be provided about a person residing on the same property of any of the above. This information can be used to determine a person's suitability for the relevant role.
3. Working With Children Check clearances
Decisions that are not reviewable by the NSW Civil and Administrative Tribunal
People convicted and imprisoned for murder, the indecent or sexual assault of a child, child pornography or incest with a child victim will never be able to appeal to the NSW Civil and Administrative Tribunal (NCAT) to overturn a ban on them working with children.
Persons subject to a control order, for example good behaviour bond or home detention, cannot appeal to NCAT against a refusal decision for the duration of the order.
Timeframe to provide further information reduced
When the Children's Guardian makes a request to a WWCC applicant for further information, the timeframe to provide that information has been reduced from six to three months.
Withdrawal of WWCC application by consent only
Withdrawal from a WWCC application is only possible with the consent of the Children's Guardian.
Application of a reasonable person test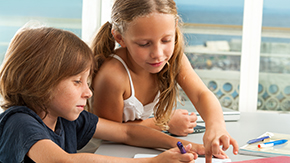 A 'reasonable person test' has been introduced. This means that a WWC clearance or enabling order cannot be granted unless the Guardian or Tribunal respectively is satisfied that a reasonable person would allow his or her child to have direct contact with the affected person who was not directly supervised.
4. Exchange of information
The Ombudsman and the exchange of information
The NSW Ombudsman can provide information about investigations into reportable allegations to the child or person with a disability who is the alleged victim of the conduct to which the allegation relates. The Ombudsman also has the power to provide that information to certain other people, for example carers or parents, who are concerned with the welfare of the victim.
The Ombudsman's reportable conduct framework also applies to individuals who reside on the same property with an authorised carer for more than three weeks – in the same way it is applied to the authorised carer.
Disclosure of information to bodies in other jurisdictions
Information can be exchanged between state child protection bodies and bodies that arrange or provide child protection, out-of-home care, guardianship or adoption services in other jurisdictions. The type of information that may be exchanged needs to be relevant for assessing the suitability of a person to be an adoptive parent, authorised carer or guardian or equivalent in other jurisdictions.
Provision of information to the Children's Guardian
In addition, persons acting in the role of Official Community Visitors can provide the Children's Guardian with any information that the Children's Guardian determines is relevant to the accreditation or registration of a designated/registered agency.
Doctors, nurses and other health professionals working in the private sector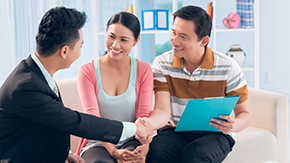 Further to the above, on the 6 May 2016, additional changes have been made to child protection legislation that have expanded the range of professionals who can exchange information about the safety, welfare and wellbeing of children and young people under Chapter 16A of the Children and Young Persons (Care and Protection) Act 1998.
The changes mean that private health practitioners, doctors, nurses, midwives, psychologists, occupational therapists, and speech therapists are now able to exchange information under Chapter 16A.
Changes have also been made to the alternative reporting arrangements for mandatory reporters, so that doctors and general practice nurses who are mandatory reporters can now make reports to the Child Wellbeing Unit of NSW Health rather than the Secretary, through the Child Protection Helpline.
(Information courtesy of NSW Dept. of Family and Community Services)
For full interpretation please refer to the legislation.
http://www.legislation.nsw.gov.au/bills/9b0c0d74-040f-4e04-a2e5-90ce654ddaef